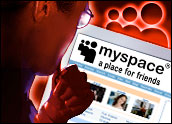 MySpace on Tuesday announced it will lay off 420 staffers, or nearly 30 percent of its 1,420-strong workforce.
MySpace and parent company News Corp. both said, in effect, that the cuts would result in a more efficient and innovative company.
One reason for the cuts could be that Google reportedly wants to haggle over the terms of its highly lucrative deal with MySpace parent company Fox Interactive Media when it comes up for renewal next year.
Though it was once a leader in popularizing social networking to millions of people, MySpace has for the first time been outpaced by arch-rival Facebook in the U.S, according to comScore.
Gone With the Wind
The 420 staff members being laid off come from all U.S. divisions of MySpace.
MySpace has painted the move as part of a plan to restructure itself into a more innovative, efficient and entrepreneurial business.
More layoffs may be coming — reports suggest management is eying the company's European staff as well.
"They have 300 employees in Europe, and the speculation is that more than 30 percent of those will be toast," Laura DiDio, principal at ITIC, told the E-Commerce Times. "If you're a European employee at MySpace, you should dust off your resume."
A Lean, Mean Social Networking Machine
"MySpace grew too big considering the realities of today's marketplace," stated Jonathan Miller, News Corp.'s CEO of digital media.
News Corp. bought Intermix Media, the company that owned MySpace Web site, in 2005 for US$580 million in cash. MySpace and Intermix's more than 30 sites were rolled into the newly formed Fox Interactive Media unit.
Comparing MySpace to Facebook, which has 850 on staff, management said it wants to trim the fat. "Simply put, our staffing levels were bloated and hindered our ability to be an efficient and nimble team-oriented company," MySpace CEO Owen Van Natta said. "Our intent is to return to an environment of innovation that is centered on our user and our product."
However, MySpace's leadership in social networking may be hampered as much by its ownership as by its perceived bloat, suggested Greg Sterling, founding principal of Sterling Market Intelligence. "It could be that News Corp.'s ownership of MySpace has prevented it from really innovating, or growing and developing," he told the E-Commerce Times.
Less Cash From Google Soon?
One factor driving the layoffs could be that Fox Interactive Media, the umbrella group at News Corp. that MySpace falls under, is itself under pressure from Google.
Google and Fox Interactive signed an agreement in August of 2006 under which Google would be the exclusive search and keyword-targeted ad sales provider for Fox Interactive's Web properties, including MySpace. Scout.com; and Gamespyarcade.com.
The agreement is set to expire in the second quarter of 2010. Under its terms, Google will make guaranteed minimum revenue share payments to Fox Interactive totaling $900 million.
This sum is payable over 10 quarters beginning Q1, 2007, if Fox meets various commitments, including a certain level of traffic flow. That works out to $90 million per quarter.
Google wants to negotiate that sum down to $50 million or so per quarter when the current agreement expires, according to Silicon Alley Insider.
Google spokesperson Jane Penner declined to elaborate on the issue. "The agreement doesn't expire until 2010; ask me then," she told the E-Commerce Times.
Down at the Heel
MySpace's enormous popularity in the years preceding the meteoric rise of Facebook came at a price. For instance, highly publicized crimes and allegations involving users of the site enforced a perception among some parents and law enforcement officials that MySpace was a haven for sexual predators.
In one case, a 14-year-old girl filed a $30 million suit against the site in 2006 after being sexually assaulted by another user.
After threats of wider legal action, MySpace and attorneys general from 49 states and the District of Columbia announced in January of 2008 a joint statement on key principles of social networking safety.
However, bad publicity was only MySpace's most obvious problem, not its only one. "There's lots of spam and clutter on MySpace," Sterling of Sterling Market Intelligence said. "The much-touted personalization MySpace allows has cluttered up its site. Facebook is much cleaner."
Battling With Facebook
Other factors working in Facebook's favor: better focus and media management, according to Sterling.
"Facebook had a stronger vision — it created the apps platform, which was a brilliant move, and created Facebook Connectors. MySpace was reduced to following those moves."
Also, Facebook was better at handling public relations, he said. "Facebook had the same problem with pedophilia, but was more aggressive and quicker at dealing with it," Sterling said. "And it had better success with the PR side of things."