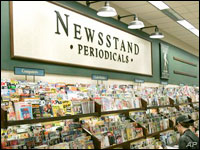 Next Issue Media, a joint venture among five leading publishers, will open its digital storefront next year on Android tablets, according to an AllThingsD report.
Android is a very important platform for tablets and smartphones, Next Issue Media CEO Morgan Guenther told the publication. The consortium also intends to publish on the Apple platform, but Guenther didn't say when.
The founding members of Next Issue Media are Conde Nast, Hearst, News Corp., Time and Meredith.
There's speculation that the news is a bid to pressure Apple into being more flexible with publishers.
Problems With Apple
Some publishers are reportedly unhappy with the 30 percent cut Apple gets for any periodical subscriptions sold through its apps. Further, they are annoyed at what they see as Apple's high-handedness, showcased by an incident this summer when the company refused to let Time Warner's Sports Illustrated magazine sell subscriptions for its app.
Another bone of contention is that Apple keeps all the customer data, so publishers have no idea who their subscribers are or how to reach them for follow-up sales and for marketing efforts.
Apple's often perceived as exerting a high level of control even over the ad process.
When Apple launched iAds earlier this year, CEO Steve Jobs noted that the company had locked up US$60 million worth of ads for the second half of the year. Since then, things appear to have quieted down. Chanel and Adidas have left, reportedly because of dissatisfaction over the tight control Apple exerts on the creative process for advertisements.
The speculation then was that Apple would lose advertisers to Google. News that Next Issue Media plans to launch on Android may well validate those fears.
"The most immediate thing is, this is a 'screw you, Apple,'" Laura DiDio, principal at ITIC, told the E-Commerce Times. "They're telling Apple it's not the only game in town and they'll go elsewhere."
Apple did not respond to requests for comment by press time.
New Issues Media declined to comment.
There's Always Another Option
One of the members of Next Issue Media is Time Warner, which was already distributing apps for its publications on the iPad.
At its earnings call earlier this month, Jeff Bewkes, Time Warner's president and chief operating officer, said the company expected to announce deals with other tablet makers in the near future. He said Time Warner was psyched about the iPad but was frustrated over the standoff on subscription sales for its app, pointing out that Google would be very happy to work with his company.
Meanwhile, reports have surfaced that Apple is creating an iPad newsstand that would not go through iBooks and is pushing that idea to publishers.
Going for the Moolah
There's good reason for all this jockeying — a study on consumer demand for interactive periodicals conducted for Next Issue Media by consultants Oliver Wyman indicates that it might generate $1.3 billion in revenue for publishers.
That kind of money means there's still going to be a place for the iPad because of its huge user base.
"Strategically, publishers may come back to Apple and work something out if it relaxes its rigid code, because it's had to argue with a company that's sold, what, 15 or 16 million iPads within six months," DiDio said.