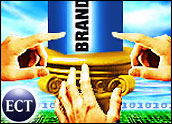 There are pundits who say loyalty was stillborn on the Internet, but Keynote Systems isn't one of them.
The San Mateo, Calif., provider of on-demand test and measurement products for gauging mobile and online performance reports that loyalty to big Net brands solidified last year, as did those brand's market share.
"In 2006, consumer brand preference hardened, as the various Internet markets matured, making it increasingly challenging for competitor sites to usurp the leaders in their markets," Keynote stated in a report released last Thursday based on the company's many competitive research studies conducted last year.
Mirror of Bricks and Mortar World
The online world is increasingly resembling the offline world, according to Keynote Director for Competitive Research Steve Foster.
"What you're seeing here is a growth in customer experiences with a number of competitors in different marketplaces," he told the E-Commerce Times. "You're also seeing a more educated consumer. They effectively know what they want and know what they don't like."
Nevertheless, Foster acknowledged that price remains a paramount concern for online shoppers. However, like their offline counterparts, some online merchants have adopted tactics to avoid head-to-head competition on pricing.
"Selection is one common way of competing against price," he noted. "In the travel space, travel packages are another great way to compete against price."
Store Loyalty Declining
While consumer loyalty to brands may be hardening, their loyalty to stores is waning, claimed Patty Freeman Evans, an analyst with JupiterResearch.
"Consumers are more likely to switch from e-tailer to e-tailer even though they may have had previous good experiences with an e-tailer," she told the E-Commerce Times.
"Loyalty on the Web seems to be declining," she observed. "But I don't know how that compares specifically with data in the offline world."
She contended that competition has contributed to that decline in loyalty.
Rather Switch Than Fight
"Competition is heating up and continues to heat up," Freeman Evans said. "There are hundreds of thousands of Web sites selling all sorts of things and that seems to keep growing.
"Consumers are getting inundated with lots and lots of offers and seeing ads in many different places so it's easier for consumers to find different stores to shop with," she continued.
"And switching costs are almost zero for consumers," she added. "There's not a lot holding customers to a retailer online, other than any specific efforts the retailer is making to satisfy that customer and to keep them in their clutches."
'Smart Promotions'
In the past, retailers spent 70 percent of their marketing budgets on acquisition of new customers, 15 percent on retention and 10 percent on loyalty, Freeman Evans noted.
"We'll see that change over time as the online buying population matures and more consistent efforts will be made to poach customers," she predicted.
E-tailers will also start to use "smart promotions" to create more interactivity with their brands, according to Michael Moon, CEO of Gistics, a marketing think tank in Oakland, Calif.
Brand strength grows as consumer interaction with the brand increases, explained Moon, co-author of Firebrands: Building Brand Loyalty in the Internet Age.
That interaction increases through a process Moon calls the brand building cycle. During that cycle, consumers evolve from repeaters to subscribers to editors, helpers and evangelists.
"Smart promotions create incentives throughout that brand building cycle," he told the E-commerce Times.
Best Experience
Another trend identified in the Keynote report was that consumers have an increasingly high expectation for a satisfying online customer experience.
Online retailers ranked by Keynote as having high customer experience ratings were Amazon.com, Circuit City, L.L.Bean and Dell Computer.
Top travel sites were Expedia, Travelocity, Budget Rent A Car and Royal Caribbean.
Leading financial services sites were Citibank, Bank of America, Fidelity, Discover, American Express and Progressive.