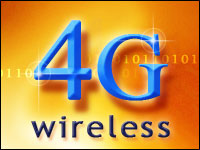 This is the question I've been most asked by the media this week: Is Lightsquared going to work or not? Let me start by saying that I think this company sees a problem and it could come up with the right solution. However, there is no answer yet — so it seems it has reached a brick wall. What happens next? Is this the end of the road for Lightsquared?
In my Pick of the Week section, I'll tell you about a new book — Search & Destroy: Why You Can't Trust Google Inc. by Scott Cleland with Ira Brodsky.
Should Lightsquared Go Dark?
The June report on Lightsquared that we have been waiting for is in, and it doesn't look good for the company. The technology it uses does impact the spectrum of the GPS industry, the report concludes. So even though we need a solution to the spectrum problem, we cannot allow this company to interfere with another industry. What's the answer?
First things first. Let's remember, Lightsquared is a brand new company. It is just building and testing its network, so there are no customers or employees at risk. The risk is for the investors who may have put up a few billion dollars to build it.
If it will harm another industry, why not just shut it down? Well, the truth is we need Lightsquared — or a company like it, anyway. We have a bandwidth shortage.
Until four years ago, everything in the wireless industry was going along just fine. The smartphone sector was growing at a manageable rate. Companies like RIM were growing and doing fine. Everyone was growing and happy.
Then, four years ago, Apple changed the industry with the iPhone, in much the same way it changed the music industry with the iPod. It was so successful it enticed Google to jump in with Android, and the race was on.
Two non-wireless companies are now leading in the wireless handset race. Imagine that. Suddenly, the smartphone sector is exploding. Apps grew from a few hundred to a few hundred thousand over just the last few years. Growth jumped from 15 percent to around 50 percent. The industry is on fire.
That sudden demand caused a big problem for carriers like AT&T, Verizon and Sprint: not enough spectrum for wireless data usage. AT&T Mobility has been battling data logjams for years.
In fact, that's why it wants to acquire T-Mobile. Actually, it needs to acquire T-Mobile — not for the company, but just to get its hands on more spectrum. But that's another story with another solution.
This is the problem that Lightsquared wants to solve. If it works, it will not only provide a solution to large and small competitors, but also do very well itself.
Always Something
However, there is this GPS spectrum problem. There are countless well-known companies on the navigation side who have weighed in with negative comments on the problem.
To answer, Lightsquared held a conference call last week, which didn't do it any good. Jeff Carlisle, EVP of regulatory affairs, sounds like a nice guy, and he tried but made no progress. Don't get me wrong; it needs to hold these conference calls. The industry needs to hear from the company. However, it needs to make things better, and it didn't.
Whether Lightsquared likes it or not, stories will be written, and analysts like me will be called by the media for comments. Without the company's positive side of the coin, all we will discuss is the negative side that we are asked about. There is a positive side — if it can solve this problem.
Lightsquared needs to think about its PR — and quickly — before this whole thing spins out of control. I have seen that happen too many times. I have worked in this industry for 25 years and worked with many companies. I've witnessed many very good and many other very bad PR moves. So far, Lightsquared is not handling this problem well.
It should acknowledge the problem and show it is working to fix it. It should instill confidence that it will fix it. However, it should also be talking about the good it will bring — the solution it will bring to the crowded marketplace. Capacity. Industry growth. Increased competition from smaller players. The investors it will make happy. The customers it will solve problems for. The workers it will hire as it grows. There is plenty of good that will come IF Lightsquared can solve the problem.
Being quiet will kill it. It's starting to happen already.
I have been asked to write a book about Phil Falcone and his Lightsquared adventure. While I have not yet said yes or no to the publisher, I have been kicking the idea around, and there is definitely quite a bit to write about. This is becoming quite a show.
How it handles this growing problem will be critically important not only for Lightsquared, but also for the entire industry. The U.S. needs to fix its capacity problem, and quickly. Then Lightsquared needs to fix its problem and build the network. Then it needs to start selling its service quickly, and it needs to start building a true company. And it needs to do this yesterday. There is no more time to play games.
If Lightsquared doesn't step up, the wave of opportunity will pass it by, and it will lose its chance at greatness. So what will be the next step? Will Lightsquared recover and be successful, or will it become road kill on the information superhighway as others pass it by on their way to the next great idea? That is the question we are all asking today.

My Pick of the Week is a new book, Search & Destroy: Why You Can't Trust Google Inc., by Scott Cleland with Ira Brodsky.
I have been reading Scott Cleland's weekly column about Google so this topic is no surprise, but it does cover it all in one place, and it does make you think. What this book does is make an argument about Google that we don't usually hear.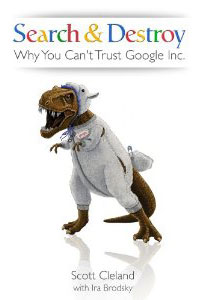 We typically hear of Google as a growth company. How it is reinventing the search business and moving into many other areas, like wireless with Android. It also has its eyes on many new areas like television and may eventually start to compete with the cable television industry.
At the same time, Cleland says there is a dark side to the Google growth story that most are not aware of. He says this is a must read for anyone who wants to understand the future of the Internet and the online economy.
According to Cleland Google is so pervasive and dominant on the web that one can't really understand the Web without understanding where Google is taking it.
He says there are many books that tell the Google story from Google's perspective. This is the first book to answer questions users most want to know about the company. Questions like, can I trust Google? Do they respect property rights? Are they a monopoly? Are they accountable to anyone? Are they as ethical as they claim? Do they have a hidden political agenda? And many more.
These are serious questions, and Cleland says the evidence is overwhelming that Google is not the company it pretends to be.
This reminds me of the fabulous growth story Microsoft was until it finally got into the crosshairs of the Government. I don't know when that will happen to Google, but a young and successful company that keeps growing in importance eventually gets seen as a threat. Amazing.
I have used Google for years and love the service. However, this is another very interesting side of the story that I was not aware of. See what you think.