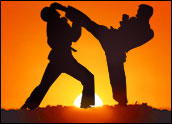 Judge Lucy Koh on Thursday heard another round of quibbling between Apple and Samsung lawyers. Calling for some sort of "global peace," she reportedly asked both sides if there was any endpoint coming in their slugfest over patent issues.
Koh presided earlier this year over the high-profile, often bitter trial between the giants that ended with the jury awarding Apple US$1.05 billion in damages. The judge has yet to approve that verdict. The hearing on Thursday covered several areas of disagreement, including the jury's calculation of damages and Apple's request to ban Samsung product sales in the U.S.
Rather than appearing to reach any compromise or heeding the call for peace, the two sides continued to dig in.
Empty Threat?
It is expected that there will be some injunction against Samsung's device sales, but given how long this case has dragged on, it begs the question whether it even matters at this point.
By the time any injunctions become effective, they're likely to have little impact on Samsung, as the devices will be in the long-tail of their life cycles, noted Chris Silva, principal analyst at Netpop Research.
"I expect to see a lot of pressure put on the court for financial penalties against Samsung as this is where Apple can inflict the most damage," he told the E-Commerce Times.
Apple and Samsung did not respond to our request for further details.
New Round for New Year?
Little new information was introduced at the hearing, based on reports, and Koh previously had indicated that she wanted to be done with her deliberations before the start of the new year. However, she did appear willing to review some of the jury's calculations for damages.
While it doesn't appear that Koh favors one side's arguments over the other, her willingness to review the calculations suggests that the billion-dollar sum might be questioned.
"When the ruling occurred several months ago, it looked like a solid Apple victory over Samsung …, but the game is not over … by any stretch of the imagination," said telecommunications analyst Jeff Kagan.
"The big question is will the big Apple win slip through their fingers?" he wondered. "While it's too early to tell yet, the truth is it just might."
Holiday Markets
Currently both Apple and Samsung are heavily vying for holiday shoppers' dollars, and Apple could be trailing Samsung in that race, according to data from comScore.
Given the importance of the market, are the companies spending too much energy battling one another and wasting resources that could be spent elsewhere?
"As always, I'd like to see even half of this energy put back into product design and iteration on Apple's side," said Netpop's Silva.
"Their recent releases have been lacking many of the user-centric new features, in contrast to something like Apple's Thunderbolt, which seems only to cost users more in accessories," he said.
While it is highly unlikely that the companies will forge a "global peace" — especially in time for the holidays — pursuing it probably would be a wiser course of action than continuing the hostilities.
"The best solution would be for both Apple and Samsung to lay down their swords and find ways to work together," Kagan added. "These problems can be solved if both sides can work together."
Instead of a Christmas truce, it's more likely that both sides will be redoubling their efforts to mount a New Year's offensive.
"Will Apple and Samsung learn to work together to settle these differences, or will they fight till the end?" pondered Kagan. If a fight to the finish does unfold, it could cost Apple a lot — even if it eventually wins this round.
"Samsung is still one of the industry's most successful players and that will not change because of this legal battle," Kagan noted, "no matter how bad Apple wants it."