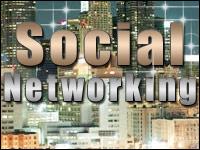 Social networking technology has found a solid niche in the business world. Facebook and Twitter are proving to be powerful — and cost-effective — tools for connecting with customers and promoting products and services.
Major corporations like Pepsi and Procter & Gamble have been so happy with the results of their various social media campaigns that they have shifted large portions of their advertising budgets from more traditional channels like print and television to the social networking realm.
The general acceptance of social media by big business has undoubtedly contributed to the lofty stock market valuations now attached to companies that not too long ago were being derided as having no redeeming value — social, monetary or otherwise.
These trends also have grabbed the attention of business applications developers. A number of these companies — some of which were also one-time darlings of Wall Street — apparently believe that jumping onto the social media wave is the only way to keep paying customers these days.
Enhancing Business Collaboration
To that end, these companies have begun piling social networking functionality on top of applications that initially were built for managing back-end business activities such as tracking the movement of goods across a supply chain.
The vendors are selling this new functionality as a way of improving communication and collaboration across an enterprise.
The ability to communicate and collaborate effectively is essential to the running of a successful business, but I'm not sure that social networking technology — particularly in the form that vendors are currently presenting it — offers the best approach for improving business collaboration.
Many of these vendors are asking corporations to make significant investments in applications that do little more than mimic Facebook.
How Is This Different?
Take Chatter, the social business application offered by customer relationship management software specialist Salesforce.com. Users get a homepage that looks like a typical dashboard on a business analytics application. The dashboard presents a snapshot of the various metrics that users would want to monitor in order to stay on top of their jobs, along with the ability to drill down and get more details on specific items.
The difference is that the Chatter dashboard includes a profile feature that allows users to list personal data about themselves, including a photo and "status" information. They also can follow other Chatter users.
So, how exactly is this different from Facebook, and what's the real value to a business user? A Chatter demo — posted on YouTube, naturally — explains that a business status update would let people know what you're working on, not who you're currently dating. Also, the follow feature lets you follow much more than people. You can follow spreadsheets, documents or applications.
Following spreadsheets and documents means you get instance notice when they get updated. I can only assume that tracking an application would be similar to what supply chain application vendors refer to as "event management." It simply means that you ask the system to send you an alert — either through an email or text message — when a specific event occurs, such as an order being shipped. Chatter users would see that notice on their profile page instead of their email inbox.
This Isn't Social Networking
Tibco, which has a history of offering solutions to help companies integrate supply chain infrastructures, has a similar feature in it new social business application, which it calls "tibbr." While I can see the value of this feature, I wouldn't categorize it as social networking. I would categorize it as part of the broader trend on the part of vendors to be associated with social networking.
I also would caution users being approached by these vendors to protect their IT budgets. There are already numerous applications on the market that are designed specifically to enhance business collaboration. Most supply chain management applications have the event management capability that I mentioned earlier. If you need to enable broader collaboration across departments, products like Microsoft's SharePoint or IBM's Lotus suite offer more than adequate functionality. Both of these products also now boast social networking functionality, if you crave that as well.
I wonder, though, if the back end of a business is really the right place for social networking technology. Does it make good business sense to have people who are responsible for tracking the flow of goods or managing customer payments spending their time updating the business equivalent of their Facebook pages?