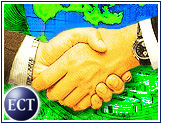 Informatica, a supplier of data integration and business intelligence solutions, has announced it plans to buy Striva Corporation in a cash-and-stock transaction worth about US$62 million.
Sanjay Poonen, senior vice president of worldwide marketing at Informatica, told the E-Commerce Times that Striva's mainframe data integration software is the gold standard in its sector. He called the acquisition a seminal move in Informatica's quest to maintain its leading position in the data integration space.
Pending regulatory approval, Poonen said, the acquisition should be complete by fourth-quarter 2003. He predicted that in 2004, Informatica will rebrand Striva's Bulk, Change and Live applications under its PowerConnect product line.
Removing the Reseller
For more than two years, Informatica has been a reseller of Striva's products, primarily mainframe solutions using Striva's patented technology.
Striva's mainframe technology can be easily transferred to many other technologies, including open-source relational database management systems (RDBMS) programs like Oracle's 9i or IBM's DB2, because the company's product uses a modern architecture and is easy to install and implement, Poonen said.
Although some overlap exists between Informatica's and Striva's products, there is none in the mainframe space, Forrester analyst Philip Russom told the E-Commerce Times. According to him, Striva's mainframe capabilities were the primary impetus behind Informatica's decision to purchase Striva outright.
As an OEM, Informatica was paying royalties on the Striva software it resold, Russom said. While the chance to eliminate those payments may have helped to encourage Striva's purchase, he noted that the ability to control both the capabilities and the development direction of Striva's products probably was more of a deciding factor.
To achieve more seamless integration between Striva's and Informatica's products, one vendor needs to own and control all the pieces, he added.
The Mainframe Advantage
According to market reports cited by Informatica, mainframes still store more than 70 percent of corporate data. The technology needed to move data from a mainframe to another mainframe or to a Unix or Windows system is extremely complex.
"Often this data is in different formats, and you need to change the format as you move it from one data platform to another," Russom said.
In addition, data warehousing, in which data is pulled from disparate sources throughout an enterprise, requires highly specialized changes to the data to be used, he explained.
Extending Reach
Until now, Informatica has been challenged to include mainframe capabilities in its data movement cycles, so the Striva purchase expands its potential customer base to include companies where mainframes are an important component of data storage and management.
According to Poonen, Informatica and Striva have 130 customers, or 10 percent of Informatica's customer base, in common. This means Informatica potentially could upsell Striva applications to the other 90 percent of its customers, many of which still store data on mainframes.
Russom concurred with Poonen that the Striva acquisition is a positive move on Informatica's part. He said that many of Informatica's customers have wanted to extend their use of Informatica applications into the mainframe environment, and that integrating Striva's mainframe technology should help Informatica gain more customers.