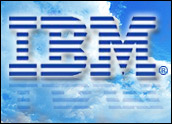 After years of chipping away at the cloud computing market, IBM on Wednesday announced that it has teamed up with AT&T to offer secure cloud computing as a service.
The two companies will combine IBM's SmartCloud Enterprise+ with AT&T's virtual private networking service to Fortune 1,000 companies worldwide.
The service will be offered early next year.
How the Service Will Work
The combined offering secures data in motion, integrating the security features of both IBM's cloud computing resources and AT&T's VPN service. This will let users move data or applications between their own data centers or private clouds, and the service.
"This is going to provide clients with an extra level of security because the data leaves their own data center at the company and travels on a protected network tunnel to be processed, and then goes back to them through the tunnel," IBM spokesperson Colleen Haikes told The E-Commerce Times.
Corporate data usually travels over VPNs, but the difference is that the AT&T network "is connected at the code level to the IBM cloud and data is protected the whole way through," Haikes said. "The two companies have worked really closely together over the past 10 years."
AT&T will dynamically allocate networking resources to computing resources. This will let both scale up or down in tandem rapidly to support changes in demand.
The service will be customized to fit customer demand. It will offer service level agreements aligned to business and usage requirements. It will have more than 70 automated built-in security functions, and will extend security to both wired and wireless devices that have been authenticated to the user's VPN.
Implications of the Team-Up
The IBM-AT&T joint offering "fundamentally reinforces the notion that cloud providers recognize that they can't treat security as a 'nice-to-have' but, rather, need to deliver it as a service, the same as how core computing services are delivered," Urvish Vashi, vice president of marketing at Alert Logic, told The E-Commerce Times.
"The idea of looking at the full array of security services and providing credible security solutions across the board is table stakes for targeting F1000 customers to move to the cloud," Vashi continued.
However, the team-up "won't materially change the playing field [because] most F1000 companies are taking cloud services from companies other than AT&T and IBM," Simon Aspinall, chief of vertical markets, strategy and marketing for Virtustream, told The E-Commerce Times. "Other suppliers have differentiated cloud offers that are gaining good market traction using AT&T and other communication services."
Don't Quit
It's likely that IBM's teaming up with AT&T is a bid to boost both companies' attempts to gain traction in the cloud computing market.
Big Blue has a worldwide network of at least 13 cloud computing centers. Back in 2007, the company introduced what it called "ready-to-use cloud computing" with its "Blue Cloud" initiative. In 2008, it offered its independent software vendors and partners "Bluehouse," a Software as a Service version of Lotus Connections.
Last year, IBM teamed up with SugarCRM to play in the social business arena, which Big Blue predicted would grow into a $100 billion market.
"AT&T and IBM have both been making efforts in cloud services, but haven't yet established a strong marketing position," Virtustream's Aspinall commented. "This AT&T/IBM offer mainly addresses basic virtualization and backup services related to IBM server offers."
Other Cloud Security Developments
Concerns about security in the cloud are driving developments in that arena.
On Monday, the Cloud Security Alliance published implementation guidance documents for security as a service.
On Tuesday, Microsoft released a free cloud security readiness tool.
"Security-related issues topped our list of consumer concerns about cloud maturity" in a recent CSA survey, Jim Reavis, the alliance's executive director, told The E-Commerce Times. "We have also seen an over 100 percent increase in downloads of our security assessment tools in the last three months. Providers are ramping up security directly due to consumer requests."