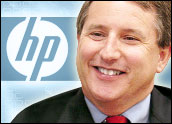 Monday's announcement that Oracle and HP have settled the lawsuit triggered by Oracle's hiring of former HP CEO Mark Hurd may seem surprising, given that the suit was filed just two weeks ago. However, there are many reasons both companies would want to end this battle now.
HP filed the suit September 6, the day after Oracle announced it had named Hurd a co-president and planned to appoint him to its board of directors. It was exactly one month earlier that Hurd had resigned as CEO of HP after admitting to filing fraudulent expense reports in order to hide what was deemed to be an improper relationship with a female HP contractor.
HP Had a Weak Case
The weakness of its case gave HP one obvious reason for wanting to settle. HP had argued that Hurd should not be allowed to become co-president of Oracle because he would not be able to fulfill that role without disclosing confidential information about HP's business practices to his new employer.
"California is a right-to-work state. That means it was going to be difficult, if not impossible, for HP to block Hurd going to work for Oracle after HP effectively had terminated him," Rob Enderle, principal analyst with the Enderle Group, told the E-Commerce Times. "And while Mark Hurd clearly has intellectual property that HP is concerned about him sharing, they don't really have a case until they can show that he actually shared that information."
It's also likely that both companies wanted to avoid dragging this fight out any longer because they feared it was having a negative impact on business.
"HP simply may have decided that it didn't want to have this story in the news anymore," Enderle said. "It's been burning up the airwaves and making it difficult for HP to talk about product or anything else, and it might have even been making it difficult for them to attract a new CEO."
Protecting Partnerships
Oracle may have viewed the settlement as a means of preventing damage to important business partnerships, including its longstanding partnership with HP, suggested Charles King, principal analyst with Pund-IT.
"Oracle is in an interesting situation, due to its purchase of Sun Microsystems," King told the E-Commerce Times. "It now has a number of companies that it used to be great partners with that it now competes directly against — including HP. It was very important for Oracle to come to a settlement with HP in order to make sure that those relationships — that in some cases it had spent decades building — were not damaged."
The desire to preserve relationships was evident in the statements related to the settlement from both Oracle and HP.
Ellison Plays Nice
"HP and Oracle have been important partners for more than 20 years and are committed to working together to provide exceptional products and service to our customers. We look forward to collaborating with Oracle in the future," Cathie Lesjak, HP's CFO and CEO, said in a statement.
"Oracle and HP will continue to build and expand a partnership that has already lasted for over 25 years," Oracle CEO Larry Ellison said in the same release.
Terms of the settlement weren't disclosed, but HP has filed a report with the SEC indicating that Hurd agreed to relinquish roughly 345,000 HP shares that were part of his severance package. That would account for roughly half the value of that package, which reportedly was worth more than US$30 million.
Ellison's conciliatory tone was quite a departure from statements he made in the wake of Hurd's resignation from HP and subsequent hiring by Oracle. Ellison sent an email to The New York Times saying that in letting Hurd go, HP's board had "just made the worst personnel decision since the idiots on the Apple board fired Steve Jobs years ago."
While Ellison is known for being outspoken and having a take-no-prisoners attitude, his willingness to settle with HP shows that he clearly knows where to draw the line, King surmised.
"There are a few business executives in Silicon Valley who have a flair for the dramatic, and Ellison clearly is one of them," King said, "but at the end of the day, he's a businessman. He understands the difference between business and professional theater."