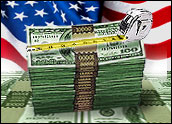 Have you watched the news lately? "Credit markets deteriorate." "Housing foreclosures at 25 year high." "Unemployment on the rise." "Weakest U.S. dollar in decades." "Consumer confidence declining." It's pretty clear there could be some nasty surprises for businesses, and marketers in particular, if the economy continues down this path.
How's your direct marketing budget going to hold up? Has anyone questioned what you're spending on paid search, e-mail, banners, affiliate marketing? Rumors of a cutback? Don't worry. Be calm, think clearly and take some prudent actions now to improve returns and defend your budget — and maybe even grow it.
Don't Panic
First, things may not turn out so badly for us in the online world. So, don't panic and do something crazy like give up budget or cut your own online ad spend prematurely. That will likely only hammer returns and revenue — not a good thing come annual review time.
There are early indications that those of us working in online marketing may be spared the worst of this economic downturn, so don't act rashly. The 2007 online holiday season remained robust, and many online retailers reported their best holiday sales season yet, including Amazon.
Despite declining consumer confidence generally, spending online is still growing and most analysts are predicting the continuing migration of traditional ad spending online. There remains a wide gap between online ad budgets relative to the amount of online media consumption. This imbalance will continue to propel online ad spending upward. For this reason, "online advertising growth is inevitable," noted Yankee Group Senior Analyst Daniel Taylor.
"Even as the credit crunch pulls ad money off the entire media table, the Internet looks to be more resistant to economic turmoil," said David Hallerman, eMarketer senior analyst, in his report on U.S. advertising spending. "As a result, online advertising contributes more to the total ad spending universe every year."
He lists several examples of this dramatic and continuing shift, including the fact that American Express increased its Internet ad spending by 180 percent and reduced its total ad spending 13.1 percent. "Although Internet advertising as a whole, and paid search in particular, will not be immune from the effects of economic problems, they will likely be more insulated," Hallerman concluded.
Oppenheimer & Co. recently predicted online ad spending to grow 33 percent in 2008. eMarketer put 2008 online spending growth at 26.8 percent. By contrast, traditional advertising growth will continue in the single digits and probably soften further in some sectors. Oppenheimer expects 3.7 percent growth in total advertising in 2008. eMarketer predicts total advertising to grow 2.1 percent this year.
The lesson? Be grateful you live and work in the vibrant, still-growing world of online marketing and not in that drab, aging realm of traditional media.
Think Clearly
Even though life in the online world looks pretty good, the overall economic climate will bring increased scrutiny of all budgets, including yours. Accountability and return on ad spend (ROAS) are increasingly important concepts to keep in mind. Metrics are important — learn to leverage them to your advantage.
In a survey reported in the McKinsey Quarterly, senior executives identified the top three barriers to increasing online marketing budgets: insufficient metrics, lack of personnel and a gap in understanding the Internet's importance between those who do the hands-on work and their bosses.
You can easily address all three of these concerns. Get very familiar with your Web analytics data and prepare to regularly report on your team's performance, especially the ROAS you are delivering. Whether you rely on paid search, SEO (search engine optimization), e-mail, affiliates, banner display or all of the above and other acquisition sources, be sure you know how each source performs against consistent measures, such as conversion rate, lifetime value, CPA (cost per action) and any other metrics your boss considers important.
Keep it clear and simple, though — your boss doesn't have a lot of time, but he will scrutinize these numbers. Make sure they accurately demonstrate the effectiveness of your ad spending.
Take Prudent Actions
Despite the health of online advertising generally and the outstanding performance of your campaigns as demonstrated by your reports, there still may be serious threats to your budget. Ask yourself: Are your campaigns performing the best they can? Are they fully optimized from start to completed conversion?
Don't stop until you've done everything you can to maximize each of your online campaigns all the way through to the target landing pages and registration forms. You will not be alone among online marketers if you've spent most of your time focused on generating quality traffic and little to no time on optimizing the key Web pages where your hard-won traffic arrives.
According to a survey of 543 search advertisers, 23 percent of which were spending more than US$100,000 per month on PPC, Search Marketing Now found that 60 percent of the marketers were doing nothing to test and optimize their key Web pages, such as landing pages and microsites, for higher conversion rates. That's a shame, because those marketers are very likely leaving money on the table. Optimized Web pages perform better at converting traffic. The surest way to get your ROAS up is to test, tune and optimize your key Web pages so you can be sure they are performing as best as possible with the traffic you send their way.
If you have not tested or optimized landing pages before, you can take the do-it-yourself approach and leverage your existing Web analytics tools to conduct some basic A/B split tests. For advice on best practices, consult Marketing Experiments. If you want to play with what's called "multivariate testing," you can try out Google's free beta Website Optimizer. There is also a wealth of information posted online by bloggers, such as Billy's Blog.
Consider Getting Outside Help
However, if you find yourself already too busy with all the other tasks on your plate, consider contacting one of the leading advanced optimization providers like Offermatica, Optimost or Widemile. They each offer sophisticated split and multivariate testing and optimization technology and various levels of professional services. If you are new to advanced optimization, we recommend you either opt for the full service offering, including original creative development, or engage one of the growing number of optimization-capable agencies to assist you with the test design, set-up and analysis.
The results of a well-designed and well-executed testing and optimization program go beyond improved conversion rates and higher ROAS. If you are employing paid search and SEO, you will likely find that your improved page relevance will also have a positive impact on your quality score and search engine response page (SERP) ranking.
The other very positive result of a fully optimized campaign may also include an increased ad budget. It's not uncommon for companies — like SmartSheet.com that have optimized their search-fed landing pages — to find that the increased number of new signed customers resulting from a fully optimized campaign justifies an increased ad budget. Maria Colacurcio, SmartSheet vice president of marketing, reported just this. "With landing page optimization, we were able to double the number of conversions we received without increasing spend. This gave us great confidence in the effectiveness of our paid search campaigns and compelled us to increase overall budget accordingly."
Test and Optimize Campaigns
Your ad budget may be threatened. Slowing economies like the one we find ourselves in drive greater budgetary scrutiny, demand for accountability of all spending, especially advertising, and a need for improved performance. Track and report performance of your campaigns clearly and often.
For us in online direct marketing, the most important measures are conversions, CPA and ROAS. Do what you can to maximize all three by testing and optimizing your campaigns from beginning to end — including those pages where your traffic arrives and converts.
Success means more than a preserved ad budget. Dramatically improved campaign performance should justify an increased budget.
---
Robert Bergquist
is CEO of
Widemile
, a provider of Web testing and optimization technologies and services for online marketers.
---