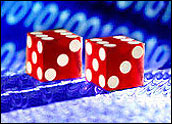 The chairman of a powerful Congressional committee filed a bill Thursday that aims to repeal the ban on Internet gambling passed last year.
Rep. Barney Frank (D-Mass.), chairman of the House Financial Services Committee, filed the measure Thursday morning.
Frank has been a vocal opponent of the ban, which became law last October.
"I guess people think gambling is tacky," he said in the House during debate on the prohibition measure last July. "They don't like it. Well, fine, then don't do it. But don't prohibit other individuals from engaging in it.
"People have said, 'What is the value of gambling?'" he continued. "Here is the value: Some human beings enjoy doing it. Shouldn't that be our principle? If individuals like doing something and they harm no one, we will allow them to do it, even if other people disapprove of what they do."
Driving Business Underground
Since the ban became law, much online gambling has been driven underground, contended Michael Bolcerek, president of the 400,000-member Poker Players Alliance in Washington.
"It has driven the public companies and the most financially transparent companies out of the marketplace," he told the E-Commerce Times. "People are still playing, but they're playing with private companies offshore."
When regulations mandated by the law are finalized, he continued, even that channel will dry up. "What you will have left is the most unscrupulous operators," he said. "What is essentially happening is that the business is being driven underground."
Reflecting Reality
He advocated changing the existing law to reflect reality, not morality.
"Internet gaming is a fact of our Internet environment," he declared. "We need a realistic approach to ensure player safety and address public safety."
However, outright repeal of the law, which gained passage during the waning hours of last year's Congress when its provisions were stuffed into a bill on port security, will be difficult, according to Anthony N. Cabot, a partner in the Las Vegas, Nev., law office of Lewis and Roca.
"It's difficult for legislators from many areas to look like they're supporting gambling, so a wholesale repeal would be very difficult," he told the E-Commerce Times.
Improving the Law
A repeal bill, however, could be used as a vehicle to make the existing law more palatable, Cabot noted. The law could be improved by:
Removing requirements that the U.S. Treasury monitor payments for illegal gambling. "That's completely unworkable unless you want to spend billions of dollars coding every transaction that goes through the banking system," Cabot asserted.
Clarifying ambiguities in the law related to games of skill versus games of chance. If games of skill — poker, chess, bridge and such — were exempted from the law, Cabot estimated that an additional 25 percent to 30 percent of the market would be legalized.
Legalizing international horse race wagering. That move would square U.S. law with a decision by the World Trade Organization on the subject, Cabot explained.
Virtual Casinos at Home
Supporters of the ban, however, argue that it should remain untouched.
"It would be a huge mistake to repeal the law," David Robertson, Internet gambling specialist with the National Coalition Against Gambling Expansion in Washington, told the E-Commerce Times. "It has been very effective."
As evidence of that, he pointed to a recent failed deal between online gambling group 888 Holdings and bookmaker Ladbrokes. One reason given by the companies for termination of talks was the uncertain legal environment in the U.S.
"Internet gambling puts a virtual casino in every home where it's available, 24/7," Robertson maintained.
Given the support the ban has had in Congress in the past, "it would be absolutely astonishing if they even came close" to repealing it, he opined.
Alterations Likely
Even if it isn't repealed, the law could be substantially altered by lawmakers this year, according to Andrew Parmentier, a senior vice president with the Friedman, Billings, Ramsey Group, an investment bank.
"Momentum continues to build behind the scenes in Washington for a new licensing and tax regime that would govern Internet gaming and, in the process, supplant the UIGEA (Unlawful Internet Gambling Enforcement Act), which was signed into law last fall," he wrote in a research note released on Tuesday.
"The most important driver of gaming legislation will be that it could raise in excess of (US)$20 billion over five years," he argued. "Democrats are starved for 'revenue raisers,' as they have put in place 'pay as you go' budget rules that do not allow them to spend federal money unless they raise revenue or cut spending in other areas.
"Secondly," he added, "the political landscape has changed since the passage of last year's ban — Democrats control the House and Senate, and conservative social Republicans no longer hold the sway they once did."