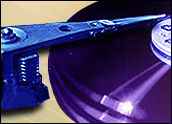 As more consumers discover the benefits of wireless networking in their homes, their eyes will start opening to the perks of network storage. That awareness will fuel some beefy growth in the market over the next five years, according to a report released Wednesday by ABI Research.
The report, written by ABI principal analyst Michael Wolf, predicted the consumer network storage market would balloon from US$305 million in 2006 to nearly $1.2 billion in 2011.
Less than 4 percent of current consumers with home networks have a standalone storage device plugged in, the report stated.
"Up to now, the network storage market has largely been one for earlier adopters," Wolf told the E-Commerce Times — "people who have a home network who understand what network storage is and aren't intimidated by installing it.
Diving Prices
That's understandable, he maintained, because up to two years ago, the market consisted of $1,000 storage drives targeted at small businesses.
"Today, that's really changed," he contended. "There are a lot of solutions from the networking and hard drive guys in the $200 to $500 range that allow consumers to tap these things and get them up and running with little configuration."
What's spurring the purchase of these drives now is safety. Consumers want to back up data for several computers on their networks, and a network drive is the easiest way to do it, according to Wolf.
Stars in Alignment
"As people build up bigger libraries of photos, music, etc., they are becoming more aware that they want to protect those things," said Jane Wasson, senior product line manager for network storage solutions at Milpitas, Calif.-based Seagate.
They're doing that on a one-computer basis now, but that's changing, Wasson argued. "Now the market is really ripe to take that next step and say, 'Not only do I want to better protect, but I want a simple way of doing it for the PCs in my home,'" she told the E-Commerce Times.
"My sense is that the stars are aligning for this market," Wasson added.
Once accustomed to backing up data to network storage devices, consumers will begin to expand their use of the hardware, Wolf contended.
"Over time, I think, consumers will want to centralize on these devices all their home video, digital photos and music," he hypothesized.
Overseas Edge
Europe and Japan are slightly ahead of North America in the adoption of network storage devices, noted the ABI report.
"The numbers aren't huge," Wolf observed. "We're not saying [that] the European and Japanese markets are three times the North American market from an adoption standpoint or anything like that.
"I expect North America to catch up over the next couple of years because you're seeing a lot of good products entering retail," he said.
Disruptive Force
If there's a disruptive force in the future of the consumer home network storage market, it could be online storage. Almost every day, a new player seems to enter that market — or an existing player announces it's expanding its offerings there.
"Some consumers may opt to do online storage — back up everything to a server somewhere 'in the clouds' versus doing it on their home network," Wolf explained.
Seagate's Wasson believes online storage will be a complement, not a competitor, to network storage. "The sheer volume of data that folks will have makes storing all of your content online impractical," she argued.
It's also impractical if you want stream your data to other devices around your home.
"These drives blow the doors off Internet storage, because they allow you to stream your media to devices without turning on your PC," Michael Scott, technical media manager for D-Link, told the E-Commerce Times. "You're not going to be able to do that with online storage."
Future Competitor
Right now, broadband speeds to the home make online storage an inferior alternative to network storage, but, according to Mani Dhillon, director of product management at Linksys, that could change.
"As broadband connections become faster, you start getting fiber to the home and things like that. It may become more of an issue," he told the E-Commerce Times. "But right now, having something on your home network is more effective."
"Over time, you're going to see more consumers do online storage. The question is, will the pie be big enough to accommodate growth for network storage and online storage?" ABI's Wolf added.
"If online storage becomes a mainstream solution," he continued, "the size of its market may hurt the network storage market."