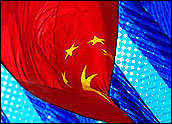 The Chinese government is introducing new regulations that many analysts fear will put a chill on e-commerce in the world's most populous country.
According to lawyers and regulators, one set of rules will make it easier for the government to censor online content, while a separate set of rules will make it harder for new ventures to receive funding.
Estimates show that the number of online users in China has more than quadrupled since 1998 from about 2.1 million users to 8.9 million users at the end of 1999.
Rules To Keep State Secrets Off Internet
In what some observers see as a clear attempt by the government to censor online content, the Chinese government issued a set of rules today that are designed to prevent the spread of "state secrets" via the Internet.
Since the 20 articles of law issued by the State Bureau of Secrecy do not define the word "state secret," officials will likely be given wide latitude in deciding which online content will be excluded.
The regulations, which were made public in the People's Daily, added that "no organization or individual is allowed to release, discuss or pass on state secrets via bulletin boards systems, chat rooms or news groups."
Internet IPOs Must Get Approval from Three Agencies
The Chinese government is also expected to introduce another set of rules that require all Internet IPOs — including those registered in other countries and backed by foreigners — to be approved by three Chinese agencies before they can offer their shares abroad. The agencies include the China Securities Regulatory Commission, the Ministry of Information Industries and the State Council, which is China's cabinet.
The rules, when enforced, could hamper the ability of many leading Chinese e-commerce companies to raise money overseas. Many firms have registered abroad, hoping to avoid an impregnable bureaucracy that has already announced that it will limit foreign investment and strictly regulate online content.
Could Affect Sina.com
Many industry analysts believe that these regulations could adversely affect such companies as Sina.com, which is based in Silicon Valley and is backed by some heavyweight U.S. venture capital firms.
Sina.com is China's most popular Internet portal. The company has been talking about going public since last year, but has yet to proceed.
Other rival companies that could be affected by the new regulations include e-commerce company 8848.net and Web portal Netease.com.
WTO Agreements Only Cosmetic
China's latest action seems to put an end to any thought that its pending entry into the World Trade Organization (WTO) will liberalize the country's policy on the Internet sector for foreign investors.
China's WTO pact with the U.S. restricts foreign investors to 49 percent ownership in a Chinese Internet-related company, with the requirement that the other 51 percent be held by Chinese investors.