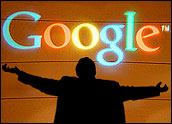 Google's impending launch of an e-bookstore could make it easier for consumers to get digital books, but it's difficult to tell how this development will impact the competitive landscape in this suddenly booming market.
The market for e-book readers is poised to catch fire, the Yankee Group predicted in January, jumping from US$1.3 billion in revenue in 2010 to $2.5 billion by 2013.
Three million Kindle devices currently are in use, claims Amazon.com, the market leader in this space.
Apple has made a splash in this space as well, selling one million iPads, its notebook device with e-book functionality, in just over three months.
A Different Approach
Google is taking a different approach to offering e-books than Amazon, Apple or other competitors such as Sony or Barnes & Noble. While Google says it will partner with some e-reader suppliers, a Web browser will be Google's primary platform for offering e-books.
Word of Google's plan to launch its e-book service spread Tuesday after Chris Palma, Google's manager for strategic-partner development, mentioned it during a panel discussion hosted by Publishers Weekly in New York. Palma said the service — dubbed "Google Editions" — would debut in late June or July.
Google Editions is the culmination of a years-long effort to find ways of digitizing printed content and making it available to users, Gabriel Stricker, Google's global communications director, told the E-Commerce Times.
The company's cofounders envisioned the original Web crawler technology underlying Google's search engine helping consumers comb through volumes of information in digital libraries, according to a history of the project posted on Google's website.
As the story goes, that led to the formation of Google Books, a collection of digitized books that users can now access and search through via the Google website.
Once Google Editions is launched, users are expected to be able to search the Google Books inventory and then download their selections for reading through a Web browser or an e-book reader.
Hard to Declare a Winner
"This could have a very positive impact on the e-book marketplace," Mike Shatzkin, founder and CEO of Idea Logical, told the E-Commerce Times. "It brings another big player, with both large numbers of eyeballs and credit cards into the game. The question is how positive it will be for both consumers and publishers."
For most consumers, the impact should be positive, Shatzkin said, since it will make it easier for them to access content. There might be cause for concern, however, among people who use the Kindle or iPad to access e-books, since it's unclear if Google Editions will be compatible with those devices.
"The Kindle is basically a closed device," he noted. "It has a Web browser, but I wouldn't want to try to use it. On the other hand, the iPad and iPhone have functioning Web browsers so they might work fine with this service."
It's puzzling that Google reportedly hasn't determined what it will charge users to access books through the service, Shatzkin said, since most large publishing houses have told Amazon and Apple that they will set prices for their offerings.
When it comes to assessing which of the three players — Google, Apple, or Amazon — might ultimately be declared the winner in the e-book space, "that's hard to say," Shatzkin remarked. "I'm not really sure how you would go about declaring a winner here, since e-books are just a small part of what each of these companies do."