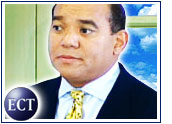 In mid-September, International Business Law Services (IBLS), a privately held company that provides global Internet legal services and acts as a clearinghouse for e-commerce-related legal information and resources, held its Strategic Global Summit for E-Commerce.
The two-day conference featured legal experts from the United States, Japan, Latin America and Europe tackling a host of e-commerce issues, including legal implications of e-mail in the workplace, matters to consider when taking an e-business offshore, and common pitfalls that Web site providers must avoid when conducting business in the European Union (EU).
U.S. Federal Trade Commissioner Mozelle Thompson, an attorney himself, kicked off the event with a keynote address that touched on several pertinent e-commerce topics, the role the FTC has assumed as the Internet has developed into a means of conducting business, and what legal counsel needs to consider when advising the companies they work with.
In an interview after his speech, Thompson told the E-Commerce Times that he thinks the Internet is proving to be evolutionary rather than revolutionary in nature.
"It will be interesting to see how we take that technology and plant seeds in all the things that we do and see how they blossom," Thompson said. "The Internet in and of itself has sped up a lot of things in [terms of] our economy and, for that matter, how people communicate with each other."
Small Agency, Big Influence
At the start of his speech, Thompson gave the attendees, some of whom came from as far away as India or Argentina, a brief overview of the FTC and its role in e-commerce.
The commission consists of just 1,100 people — about 70 percent of them in Washington, D.C. — and serves a dual role as an agency that regulates competition and as the principal consumer protection agency, he said.
The Wall Street Journal has given the FTC a new moniker: the "Internet Agency," Thompson noted, concurring that the agency has taken on such a role in the last six years. In addition to taking action against companies suspected of engaging in unfair business practices, the FTC has worked to shape Internet policy in a range of areas, including online disputes and resolutions, Internet-based fraud and privacy concerns.
In his E-Commerce Times interview, Thompson said the FTC currently has an Internet unit of investigators and lawyers who probe Internet-based complaints and surf the Web in an effort to ferret out bad behavior.
Prevalence of Fraud
The FTC views Internet fraud as a key consumer protection issue. In fact, Thompson said, part of the agency's job is explaining to the public why the problem is so important.
He said the first wave of Internet crime consisted mostly of online versions of offline hoaxes — the usual get-rich-quick schemes and pleas from desperate Nigerians.
More recently, however, fraud artists have begun to exploit the Internet to execute more sophisticated ploys, using fake Web sites and spam. Thompson cited the recent case of the phony "U.S. Consumer Protection Agency" that had its own Web site, seal and board of directors. The fake organization was sending e-mails to companies saying that for US$1,000 they could purchase the right to display its seal of approval.
The scam went on for some time, according to Thompson.
"I was alarmed when I learned that some of my staff had applied there for jobs," he quipped.
Incentivizing
In addition, Thompson told the E-Commerce Times that while law enforcement actions are appropriate for the worst offenders, incentivizing the market to behave in a good way is the most effective means of making the e-commerce system work well.
"To say, 'There's a benefit to you if you're a good actor, [and] there's a benefit to you if you police your own and squeal on bad actors, uses markets in a positive way," he explained, adding that because of this philosophy, "I think the FTC has a much bigger footprint than our size would indicate."
In his speech at the conference, Thompson made several recommendations to attorneys whose companies are conducting business online. He said lawyers should not confuse legal standards with good business practices because consumers judge companies on the latter. He also encouraged lawyers and businesses to take advantage of opportunities provided by the U.S. government to become more visible in the marketplace.
Consensus
Despite all the hurdles, Thompson wrapped up his speech by saying he remains optimistic about the e-commerce space for those who think rationally and carefully. He went on to say that it was incumbent on those attending the conference to think bigger and more strategically, not only in a legal sense, but also in a business sense.
Thompson went on to tell the E-Commerce Times that whatever differences exist between various approaches to the Internet, overall the e-world has drawn businesses and countries closer together.
"We may argue about our differences, but what we don't see is the degree [to which] we've reached consensus on a lot of things we never used to, and that happens around the world," he said.
"The fact that I can say that we're looking at these ideas in dealing with spam, and [the same ideas] suddenly pop up in Australia or Brazil, that's a very big change."