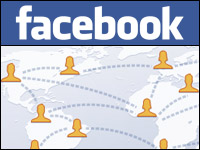 It isn't too hard to see what Facebook users Like, but on Thursday reports surfaced online about something few if any users would find likeable. It appears that sending links via private messages through the social network results in extra Likes for the link targets — never mind that the link you're sharing may concern something you abhor. Call it a case of Like fraud.
This is all the more worrisome to users because Facebook is culling links from seemingly private messages and converting them into very public Likes. This raises the question of whether private information could be made public, but Facebook denies that possibility.
"Absolutely no private information has been exposed. Each time a person shares a URL to Facebook, including through messages, the number of shares displayed on the social plug-in for that website increases," said Facebook spokesperson Devon Corvasce.
"Our systems parse the URL being shared in order to render the appropriate preview, and to also ensure that the message is not spam. These counts do not affect the privacy settings of content, and URLs shared through private messages are not attributed publicly with user profiles," she told the E-Commerce Times.
"We did recently find a bug with our social plug-ins where at times the count for the share or Like goes up by two, and we are working on fix to solve the issue now," she added. "To be clear, this only affects social plug-ins off of Facebook and is not related to Facebook page Likes. This bug does not impact the user experience with messages or what appears on their timelines."
Latest Faceplant
The issue of privacy on Facebook has come up before, and this latest debacle is one that could make users question what they do through the social network.
"They're not helping themselves when they tell users that they will safeguard privacy and take privacy seriously and then seem to contradict those claims with this kind of behavior," said Greg Sterling, principal analyst of Sterling Market Research. "Assuming the reports are correct, Facebook appears to be data mining activities that users clearly intend to [keep] private. This is another privacy misstep for Facebook, and they'll be forced to discontinue the practice."
Still, it's questionable whether Facebook actually did anything wrong if it didn't share information, as it maintains, but merely added Likes for sites that users seemed to be talking about. It isn't as though the Likes were tied back to an individual or specific Facebook account. Is this something Facebook is — or should be — allowed to do?
"While I believe that Facebook's policy is intrusive and distasteful, it seems to be within the bounds of company policies," said Charles King, principal analyst for Pund-IT. "As I understand it, any material Facebook users post on the site, including personal photos, comments, etc., become, by policy, the property of Facebook."
"The company likely considers the rifling of users' private conversations and assigning Likes as it sees fit to simply be a matter of efficiently leveraging its assets," King told the E-Commerce Times.
"Plus, the practice also reflects Facebook CEO Mark Zuckerberg's stated belief — after controversies surfaced about the company's privacy policy changes in 2010 — that users' participation in an open environment like Facebook means that they prefer their data to be public," he noted.
Losing Face
Whether the fallout from this turn of events, which is just the latest in a string of privacy-related concerns, will have people turning away from Facebook is yet to be seen.
"This is really an abuse of our trust," said Alan Wlasuk, managing partner of software development firm WDDInc.
"Is Facebook going to be a responsible parent with our data?" he wondered. "What are they doing with our data that we expect that they will protect?"
This could show that Facebook isn't as much a community of users as it is a horde of users unwittingly contributing to the goal of making the owners money.
"This latest practice is simply a brutal reminder that Facebook's customers are not users — but rather the businesses that buy the company's advertising services," emphasized King.
It could be scenarios such as this one that make users examine alternatives, including the recently designed MySpace.
"It is a fickle user group out there, and if they lose enough user confidence, it will open the door for someone else to come in," Wlasuk told the E-Commerce Times. "That could be MySpace or a new startup. But this certainly opens the door."