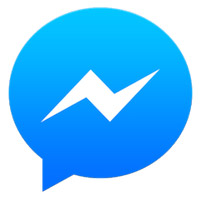 Facebook on Wednesday announced that the number of people using its Messenger app every month has surpassed 1 billion — a major milestone for what is arguably the most important tool in the company's growth strategy going forward.
A growing number of people are using Messenger to communicate with friends, send money, plan events, play games and tell jokes, the company said, claiming that it's one of only a handful of apps worldwide with so many users.
The announcement follows a series of upgrades to the app, which averaged 800 million users per month in 2015. Among the major changes: Users no longer have to be registered Facebook members to use Messenger, and the service is a cross-platform experience — meaning users can pick up conversations where they left off using multiple devices.
The Messenger app had attracted 900 million monthly users by this spring, when the company introduced another batch of additional features, including bots that can provide automated traffic and weather updates, customized shopping communications such as receipts and shipping notifications, and live automated messages.
Facebook earlier this month announced a long-awaited series of tests for end-to-end encryption, which promises to revolutionize the Messenger app by allowing secret conversations.
E-Commerce Platform
The growth of messenger could signal an important transition for Facebook to become a major e-commerce player.
"Messenger is a key tool in Facebook's strategy to become the consumer's life companion," said Karol Severin, an analyst at Midia Research.
"We are in an era when mobile messaging platforms have become places of digital user congregation," he told the E-Commerce Times.
The Messenger user base has become more important in part due to the emergence of bots, as Facebook now has the chance to insert itself into the mobile experience economy value chain, a space that has been dominated by Google Play and Apple's iTunes App Store, Severin said.
"Facebook has a realistic chance to disrupt this space in the future," he said, noting that Messenger has 1 billion users, while the App Store has about 1 billion active devices, and Android had about 1.5 billion as of 2015.
Go Global
Between WhatsApp and its Messenger tool, Facebook holds a dominant position in the global messaging app market, observed Jack Kent, senior principal analyst for mobile at IHS Markit.
The company has been cautious in terms of expanding the Messenger feature set, he told the E-Commerce Times.
Messaging apps in Asia — including WeChat in China, LINE in Japan and Kakao in Korea — have featured far more advanced content and services, but those apps have tended to focus either on a single country or a small group of countries as their key markets.
"The challenge when providing a platform for content and services integration is that it requires local partner integration — meaning that even global scale needs local expertise," Kent pointed out.
Facebook would like to extend the use of Messenger into the business market with online publishers, chatbot developers and other entities paying fees to the company, Pund-IT Principal Analyst Charles King told the E-Commerce Times.
"At the stage we're at now," he said, "the trick for Facebook is to devise ways for commercial customers to enter the Messenger experience without seeming intrusive."