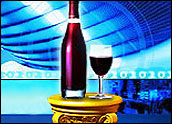 'Tis the season of giving and on Tuesday Facebook made it easier to give, as it added collections of wines to its Facebook Gifts catalog and made the program available for everyone in the United States.
For some Facebook members, the season of giving started early, with the social network giant's September launch of Facebook Gifts, a service that allows users to give a friend something real. Initially, the service wasn't available to all of Facebook's users, however.
Now any U.S. member can send Facebook friends tangible gifts — including wine — as well as digital gift cards and charitable donations.
The program could also be the "gift" that gives significant profits to the company; Facebook takes a percentage of every transaction. The social network hasn't revealed how much it has made from the service thus far, but Facebook's 170 million users in the U.S. could generate an estimated billion-dollar revenue stream for the now-public company, according to reports.
"This should be easy for people to embrace," said Billy Pidgeon, senior analyst at Inside Network. "Facebook is already advertising many of these products."
From Virtual to Real Goods
In addition to the advertisements that run on Facebook, the company has been selling virtual goods, so this move could build on its existing strengths. Moreover, the line between socializing and shopping online has continued to blur.
"Google is stepping up in e-commerce, and we're seeing that Pinterist has a laser focus on retail," Pidgeon told the E-Commerce Times. "At the same time, we're seeing that online retailers such as Amazon and eBay are looking to get more social. This is really just the next step in greater convergence of the two."
Given that Facebook hasn't exactly lived up to the expectations set for it in advance of its May IPO, this could be the holiday miracle that Facebook and its investors hoped would deliver the goods. At the very least, it could help the company end the year on an upbeat note.
"This is a major opportunity for Facebook and could generate hundreds of millions of dollars in revenue," said Greg Sterling of Sterling Market Research. "However, user experience, privacy and security considerations are critically important here. In addition, the selection of products that are available is also important."
Facing Facts
The types of products are likely to be what determines whether this will be the gift that keeps on giving — at least in the way of that aforementioned potential revenue stream — or whether the company will face a negative reaction that could turn off some users.
"Remember, e-commerce largely failed on retailer Facebook pages," Sterling told the E-Commerce Times. "That's because people weren't particularly interested in doing e-commerce on Facebook."
However, the integration of gifts could make it a more organic part of the Facebook experience, and that in turn could reap more success, he added.
What about the concerns that plagued the early days of e-commerce? Facebook has many users who would never consider purchasing from Amazon or even using PayPal.
"There will be some people who are wary of giving Facebook their credit card numbers and purchase histories," Sterling noted. "The challenge for Facebook is really about changing the culture of the experience to some degree, and providing sufficient assurances to end-users so that they feel comfortable using their credit cards and making purchases on the site."
Gift Cards Online
The other part of the equation is whether a significant number of users will want to blur the line between social networking and shopping, especially online. Still, it could be a true golden opportunity for Facebook.
"This is a good way to start it. They are starting with some good gift categories like flowers and candy," said Pidgeon.
"But the big move could be in the virtual credits area, where you can buy something at Starbucks or at iTunes, and this could build on the gift cards. So any type of card you can get at the grocery store, you could eventually get through Facebook," he suggested.
"People could see it and use it immediately and send the thank you back through Facebook," Pidgeon noted. "It is a good opportunity for services and vendors. So it is really good for everyone but the current brick-and-mortar vendors who are already selling prepaid cards."