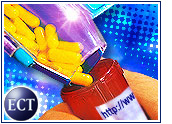 In July of 1998, after spearheading the effort to transform MSNBC into a leading online news service, Peter Neupert traded his executive office at Microsoft for a new challenge as President and CEO of Drugstore.com.
In the following exclusive interview with the E-Commerce Times, Neupert discusses his decision to leap into the e-commerce game, the highly competitive online pharmacy marketplace, and what it takes to keep a high-profile Internet business prosperous and profitable.
Q What kinds of products or services do you sell on your site? A We have five stores or departments: health, wellness, beauty, personal care and pharmacy. Each of these departments offers a broad spectrum of items for consumers to purchase.
Q What can you tell us about yourself and how you got started selling over the Internet? A I was working as the Vice President of News and Publishing for Microsoft's interactive media group when Kleiner Perkins Caufield & Byers and Amazon.com approached me with what I saw as a good opportunity to join the online world. I really hadn't been looking to leave Microsoft, but it was a chance to be a CEO and a great opportunity.
Q What areas do you see your business coming from? A Our business comes from a variety of places. One of our most important sources is Rite-Aid, where we have an in store presence reminding people that we are the online pharmacy for Rite-Aid.
In addition, we have a marketing and integrated marketing campaign that includes offline brand advertising, in eight major markets including television and radio. Besides that, we have a number of online relationships with sites such as AOL and Yahoo!.
We have also just announced an unprecedented relationship with Amazon.com, where we in effect have purchased a permanent navigational space, or shopping tab, on their site. That is a three-year deal.
Q What do you feel has helped to make your site successful? A We have done a number of innovative things. What is unique about our business is that this is a replenishment-driven business. These are products that the consumers use daily and repurchase on a regular basis. As a result, we have focused on repeat usage.
On our front page, we have a section that is designed to recognize repeat users and welcome them back to the site. This feature also identifies their most recent site activity and customer care contact. In addition, it will notify the customer if an item they have purchased in the past is on sale. Furthermore, if they have joined one of our loyalty programs, it will tell the customer what their standing is in the program and what they need to do next. That is very innovative.
Q Was there a specific turning point for your business, when sales really began to increase? A There really hasn't been one single event. Last summer, we noticed a steady increase in traffic and customers, which could be attributed to an increased public awareness of Drugstore.com.
We have continued to see steady growth in traffic as Drugstore.com is introduced to more and more customers. Word of mouth has also been very important to us. We now have more than 700,000 customers, and as they tell their friends about us, that number has continued to grow.
Q How much traffic are you seeing to your site? A The third party data is the most reliable. If you use Media Metrix, you will see that we were the leader in December 1999, with more than a million unique visitors.
Q Does your in-store presence include a kiosk or terminal with Internet access? A Kiosks are one opportunity, but they are capital intensive and require lots of manpower, because as we all know, computers are not yet easy enough to use. We have been looking at this for a long time now, and at this time, we are not going to use a kiosk.
Our in store presence is primarily found upon signage and co-marketing on prescription bottles and shopping bags.
Q What are some of the downsides or pitfalls that Drugstore.com has experienced? A This business requires a lot of effort and hard work. It is not like anybody has done this before, so at every stage of the game we are breaking new ground. One of our bigger challenges was building a relationship with insurance companies so that our customers could use their insurance co-pay in our pharmacy. We solved that problem through our partnership with Rite-Aid.
The most basic challenge is communicating the values to consumers and getting them to change their behavior. Many people in this category go shopping only when they have run out of pills or have gotten the last dab of shampoo or toothpaste.
That is inconvenient for them. It places them in an urgent condition, possibly requiring that they go to the store in the middle of what could be a busy schedule for them. We have found that our customers appreciate having the ability to stock ahead and manage it with a list.
The real challenge is getting consumers to make that behavioral change and communicating to users the benefits of shopping online, of having your list and then getting it delivered to your home and avoiding the time and hassles of brick-and-mortar shopping.
Q What efforts have you made on a regular basis to promote your site? A We have a variety of online banners that run on MSNBC, AOL, Yahoo! and a number of other sites. We engage in offline advertising and run a variety of promotions, such as a gift with purchase for first time customers. In the future, we are going to test freestanding inserts in newspapers. It is a little bit of trial in all different dimensions.
Q Were you prepared for this degree of commitment, or did you learn as you went along? A I started another company within Microsoft called MSNBC. After that experience, I totally understood what it meant to build and develop a start-up from scratch. I knew what I was getting into. That part, the effort, time, energy, focus and commitment required, was not a surprise.
Q What has been your biggest surprise in doing business online? A I don't know that there has been one big surprise. We have tried lots of different activities with consumers to get them to use Drugstore.com, and some have worked better than others. I think that the biggest surprise continues to be the skepticism I see on the part of existing brick-and-mortar chains or existing manufacturers. I believe that some of them in their heart of hearts are in a "wait-and-see" mode as to whether consumers will really accept shopping online for this class of goods.
Q What type of store software products are you using on your site? A We focused on using an NT platform for our Web servers and have built most of the Web infrastructure on our own. We also looked at lots of packages out there and decided that we could do a better job on our own. We have integrated with a number of transaction based systems for warehouse management and shipping management, and Peoplesoft for financial and payables/receivables.
Q Where do you see your business one year from now? A Big. We are growing fast. From my perspective, our most important goal is to continue to satisfy our customers and build a loyal long-term relationship with them. The repeat business is very important to us. We want to continually improve and do a better job serving our customers, identifying them and ways that they can save time and money and see that they have an enjoyable experience.
Q Some people have said that selling over the Web is more challenging because of low barriers to entry. Do you agree or disagree? A In our business, there really isn't a low barrier to entry. The reason is that in order to be a pharmacy, you have to be registered in all 50 states, solve the insurance problem, hire pharmacists, build a pharmacy, work flow systems, et cetera. So the notion that there are low barriers to entry is quite wrong in the drugstore business.
Q President Clinton has proposed that online pharmacies be regulated by the government. Would such measures have a positive or negative effect upon your business? A If anything, it would help our business, because the press has consistently blurred the distinction between the legitimate pharmacies and the rogue pharmacies, which are in effect breaking today's laws. We have already done all of the work to get licensed in all 50 states. We have achieved the VIP certification, which is a product of a national association board of pharmacies where they come out and review all of our activities and make sure that we are meeting all the specifications for all of the states we do business in.
It is not going to create new regulatory work for us; I encourage the federal government not to get into that business. But anything they do to help educate consumers that there are benefits to shopping with legitimate online pharmacies, such as lower prices, and better safety, well, that's helpful.
Q Is it still possible for the "little guy" to compete successfully online without forming alliances? A Not in the pharmacy business. The Web will certainly be filled with new ideas and inventions over the next five years. At the same time, it is a scale business. In an area where it is competitive and there is no natural barrier, companies will work to build their scale. The same investment in technology, user interface, and customization for users works for a thousand as it does for a million as it does for 10 million.
Our goal will be to get 10 million users or more. The same thing is true for brand and the distribution infrastructure. I think the notion of wanting to build a small business misses some of the key elements of what the Web opportunity creates.
Q What advice do you have for beginners who are interested in selling over the Web? A Unless you have very deep pockets, great stamina and a clear vision of what you are trying to do, I'd probably say don't try. That isn't to say that there isn't lots of opportunity, but there are also lots of players going after that opportunity. You have to have more than a great idea — you also need a great idea coupled with great management, and lots of money.