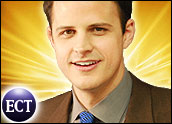 Roughly 50 million households in Western Europe have adopted broadband services over the past three years. Regulatory reforms in the UK and France in particular have helped boost penetration by creating strongly competitive markets. As a result, a large and growing number of households can now view video online, and the door is open to alternative forms of video distribution.
What has been the impact of these changes so far? Traditional distribution methods still dominate video viewing. The percentage of broadband households going to the cinema or watching videos on DVD far exceeds the percentages from their nascent online video habits. Yet the latter are not insignificant. Over 20 percent of European broadband households have watched a film or TV program online within the past six months.
Where's the Money?
The challenge is that most of this viewing is not generating revenues directly. The percentage of households purchasing or renting videos via the Internet is substantially smaller than the percentage viewing and downloading videos for free. The advertising-based models are proving to be more popular than direct payment models, but at the same time, Europe continues to have a lingering piracy problem. Stricter legislation in Italy appears to be having an impact, but the country still ranks far ahead of the UK, France, and Germany in terms of "free" video downloading. Spain, likewise, is one of Europe's "bad boys" of piracy — "free" video downloading exceeds even DVD use there. The country has signaled a desire to address its pervasive piracy problem, but so far it persists.
What impact will increased broadband penetration have in the future? Consumers generally anticipate a shift from traditional video distribution methods (i.e., cinemas and DVDs) to online video sources. They are also shifting toward "free" online video sources (both authorized and unauthorized), which presents challenges to content providers.
Consumers, by and large, still prefer to watch video through traditional channels. When asked, European broadband users overwhelmingly prefer to watch video on TVs, DVDs, and at cinemas. Only a small minority consciously prefer online sources. So why is the number of online viewers higher than that?
Substitution and the Free Factor
One is a simple substitution effect. Consumers are decreasing their cinema and DVD viewing because the Internet now offers alternative forms of entertainment, online video being just one of them. They still retain a preference for watching videos offline, but overall use is decreasing due to Internet use, which boosts online video in the process.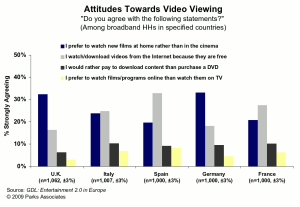 (click on image to enlarge)
A second factor is the "free factor." A notable percentage of broadband users watch videos online only because they are free. Conversely, the percentage who would pay for a download rather than a DVD is quite small. Even a general test of home vs. cinema viewing is revealing — a lackluster percentage of consumers prefer in-home viewing.
All of this is to say that European consumers are shifting to online distribution channels somewhat against their will. As such, it will be difficult for the online industry to coax revenues from them directly. Change is coming, but not in the way that most players are hoping for. Addressing Europe's piracy problem is a priority, but content providers should not give up on traditional distribution channels. Remove the lure of "free" content, and European consumers may go back to watching DVDs and going to cinemas.
---
John Barrett
is a research director at
Parks Associates
.
---