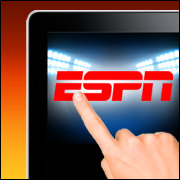 TheInternational Drone Racing Association and ESPN on Wednesday announced a multiyear international media distribution deal.
Under the partnership, the network will showcase the 2016 U.S. National Drone Racing Championships, which will be held on Governors Island in New York City this summer.
Both the national championships and the 2016 World Drone Racing Championships in October will be streamed live on ESPN3, and each event will be televised as a one-hour special on the network.
"We look forward to providing drone racing fans a larger platform to access this exciting world," said Matthew Volk, ESPN's director of programming and acquisitions.
"Drone racing is an opportunity to reach and connect with a growing and passionate audience," he added.
IDRA is the promoting and governing body for the burgeoning sport of drone racing. It recently merged with RotorSports, a media brand that produced the first U.S. Drone Nations in 2015 and cofounded the World Rotor Sports Association.
Spectator Sport
Drone racing began in France and migrated to the United States in 2014. The IDRA was founded soon after, and the group now has chapters throughout the world. It was a consulting producer for the World Drone Prix 2016 in Dubai, which was held last month.
The sport will see an unprecedented rise in popularity, the IDRA predicted, suggesting that it could become a popular as NASCAR and Formula 1 auto racing.
The August championships will offer viewers at home visuals of lower Manhattan as well as the Statue of Liberty. In addition, the event is being marketed as a summer festival that showcases drones and technology behind remote controlled unmanned aerial vehicles.
ESPN could help introduce the sport to a new demographic.
"Until now, drone racing has been mostly populated by pilots that are gamers or RC model aircraft pilots," said Michael Blades, aerospace and defense senior industry analyst at Frost & Sullivan.
"The large audience that ESPN draws will undoubtedly produce interest from sports fans that may not have known about the sport," he told the E-Commerce Times.
Investment in the sport has been significant, however. Steve Ross, the owner of the Miami Dolphins, and his venture capital firm invested some US$1 million, Blades said.
"Ross envisions having racing in football stadiums as a spectator sport," he added.
Size Matters
One issue involved in bringing the sport to TV — not to mention stadiums — is the small size of the drones. However, the IDRA has worked out ways to ensure that viewers will be able to enjoy the action.
"Golf balls are still pretty small, but they are watched on TV," said Daniel Pifko, chief operating officer at the IDRA.
"We're working people who have done this before," he told the E-Commerce Times. "We're also experimenting with ground-based cameras and cameras on the course, and we're drone people, so as we're planning this course very carefully."
For the sport to be compelling, it will be necessary to show the pilot's viewpoint, said Frost & Sullivan's Blade. "Viewers may think it's cool to see one of the drones crashing from the flying POV. Think NASCAR, but in the air."
Flying High
"Interest in the sport is growing rapidly and the market for platforms, [first-person viewer] devices and accessories will grow accordingly," said Blades.
Moreover, drones likely will continue to evolve with improvements in controllers, platforms, motors, FPV devices, propellers and other accessories as the sport gains popularity, he suggested.
"It really is amazing what a good pilot can do with these drones, and it should be even more exciting with several drones battling side by side," said Jim McGregor, principal analyst at Tirias Research.
Americans "seem to like any king of race, even when it's watching cars go around a big circle, and drones are likely to attract an entirely new audience to a new form or racing — millennials and technology enthusiasts," he told the E-Commerce Times.
It could become as popular as an X Games type of competition.
"It's a sport where someone doesn't need athletic talent, so it will appeal to many," added Blades. "Furthermore, investment by wealthy individuals and firms as well as significant monetary prizes for winners will draw even more interest — a 15-year-old young man from the UK recently earned $250,000 by winning the World Grand Prix of drone racing in Dubai."
Crash and Burn?
For ESPN, the stakes aren't that high. "It is low risk as they can only benefit if the broadcast is a success, and if not they will move on to other opportunities," said Blades.
"The stakes for the IRDA are higher, although low viewership does not translate to failure," he noted. "Like the X Games, it will likely take a few years before the sport finds a loyal and broad audience."
ESPN has covered other emerging sports, such as paintball back in the 1990s, but usually only on its secondary channels, such as ESPN2. For the drone racing, the company will make a similar move.
"The live stream will be on ESPN3, and an hour-long edited version will air on ESPN is an undefined time slot," noted Kevin Krewell, principal analyst at Tirias Research.
"The investment by ESPN is measured, but it will still be great exposure for the sport," he told the E-Commerce Times. "What the IDRA needs now is a high-profile sponsor, like a Red Bull has been for some extreme sports, to take promotions up a notch."
Safety Issues
Safety is a concern, especially with an urban area like the Manhattan skyline in the background.
"The idea must be attacked with safety in mind for both operators and spectators," said Blades.
"Currently, drone racing employs spotters and nets, and there will need to be standardized safety procedures and specifications for platforms and communications," he added.
However, if an aircraft loses communication and flies away — or worse, a spectator is hurt — the liability involved could cripple the sport.
"Operators and/or organizers will need insurance, and I'm not sure underwriters understand the risks," Blades said.
The IDRA will ensure that this sport is as safe as can be, it said.
"The FAA came to our event last year, and they approved of it. They wanted to use us as the model, and we have a drone racing safety document that we wrote that is in with the FAA right now," said the IDRA's Pifko.
"We believe in permission," he added, "not forgiveness."