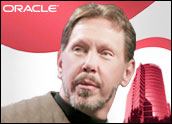 Oracle CEO Larry Ellison insisted on Wednesday that recently appointed HP CEO Leo Apotheker knew of the theft of Oracle's software while he was CEO of SAP.
Ellison also dismissed HP chairman Ray Lane's statement that Apotheker didn't know anything about the theft as an "absurd lie."
Oracle filed suit against SAP over the theft in March of 2007, but Apotheker did not stop stealing until seven months after he became CEO, Ellison alleged.
The accusation is the latest in an escalating war of words between the two companies prior to Monday's hearing in an Oakland, Calif., court on the topic of damages due to Oracle over SAP's theft.
Why is Ellison apparently making the battle with SAP personal by gunning for Apotheker? And why is he involving HP at all?
Perhaps Ellison's trying to convince people that he was right in hiring former HP CEO Mark Hurd, who left HP under a cloud, speculated Rob Enderle, principal analyst at the Enderle Group.
Larry and Leo
Ellison's Wednesday statement is his latest outburst against Apotheker. Previously, he had accused Apotheker of overseeing an industrial espionage scheme resulting in the repeated theft of Oracle software.
Ellison had also said Oracle intended to subpoena the incoming HP CEO but could not do so because he was living outside the jurisdiction of the court trying the case.
Apotheker is set to begin working at HP Monday.
"Oracle had ample opportunity to question Leo during his sworn deposition in October 2008 and chose not to include him as a trial witness until he was named CEO of HP," HP spokesperson Gina Tyler told the E-Commerce Times. "Given his limited knowledge of and role in the matter, we question the motives behind this last-minute attempt to include him at trial," she added.
"If Apotheker was so critical to Oracle's case, he would have been deposed prior to his taking the job at HP," Enderle told the E-Commerce Times. "Since he's being deposed after taking the job, it appears that Oracle is more focused on damaging something at HP than winning against SAP," he pointed out.
Oracle included Apotheker's name in a list of witnesses submitted to court Aug. 5 this year. HP named Apotheker its CEO September 30.
The Skinny on the Lawsuit
Apotheker didn't become co-CEO of SAP until April 2008, and the theft by TomorrowNow occurred on the watch of Henning Kagermann, his predecessor, and later co-CEO.
Oracle had filed suit against SAP subsidiary TomorrowNow, which provided third-party support for Oracle apps, in March of 2007, claiming theft of its software. After investigating the claims, SAP acknowledged in 2008 that TomorrowNow staff had stolen Oracle software, announced later that it would shut down the subsidiary, apologized and offered restitution.
Oracle refused repeated offers from SAP to settle out of court. The database giant has claimed it suffered more than $1 billion in damages, but SAP is offering tens of millions of dollars in compensation instead. The court apparently has agreed to narrow the scope of damages, and perhaps Ellison isn't satisfied.
"I think there's a lot of posturing going on," Rick Sturm, founder and CEO of Enterprise Management Associates (EMA), told the E-Commerce Times. "I find it hard to believe that Oracle has been damaged to the extent that it claims."
Larry's Possible Motivation
There are two possible motives behind Ellison's latest charges against Apotheker, Sturm speculated. One is that Oracle really has a smoking gun — conclusive evidence that will prove beyond the shadow of a doubt that it was damaged to the extent it claims. Another is that it's really targeting SAP, using Apotheker as cover.
SAP spokesperson Saswato Das declined comment on the record.
"I expect Ellison's trying to intimidate or exert pressure on SAP and/or HP," Charles King, principal analyst at Pund-IT, told the E-Commerce Times. "The former is a long-time Oracle target and the latter's hiring of Apotheker has effectively hung a bull's eye around its neck."
Ellison may also be trying to minimize the danger the combination of Apotheker and Ray Lane, formerly Oracle's chief operating officer, pose to Oracle.
"In Lane, HP has a resource who intimately understands Oracle and Ellison, and likely knows where scores of bodies are buried, if you will," King pointed out. "Together, Lane and Apotheker make a potentially potent combination."
Oracle spokesperson Deborah Hellinger declined comment.
Getting Value for Hurd?
Yet another motive behind Ellison's attack could be an attempt to justify his hiring of Mark Hurd after Hurd left HP under a cloud.
"Larry has a problem — he has a highly paid new executive in Mark Hurd who's tarnished by the way he was fired," Enderle told the E-Commerce Times. "If Larry can get enough people to believe HP's board was incompetent and Hurd was actually fired as a result of that incompetence, then Hurd will be more of an asset. I think HP, and more specifically HP's board, is the target of this latest attack."
To some extent, Ellison's ploy may have succeeded — if indeed he was gunning for HP's board.
"These accusations and counter-accusations do raise questions about the quality of HP's due diligence on its new CEO," Enderle remarked.
"Larry's been angry through this whole mess with Hurd's dismissal and angry with Lane's hiring as chairman of HP," EMA's Sturm said. "Since the hiring of Apotheker, he's just been over the top. I don't know how much of it is genuine rage and how much is posturing."