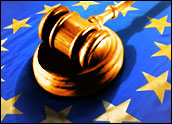 The European Commission on Wednesday began official antitrust proceedings against Google, alleging abuses of its dominance in Internet search. The EC further opened a probe into Google's Android mobile operating system.
In a Statement of Objections sent to Google, the EC notes that its preliminary investigation indicates the company has infringed European antitrust rules by stifling competition and harming consumers. However, issuing the statement does not preclude other possible outcomes of the full investigation.
"The Commission's objective is to apply EU antitrust rules to ensure that companies operating in Europe, wherever they may be based, do not artificially deny European consumers as wide a choice as possible or stifle innovation," said Margrethe Vestager, EU commissioner in charge of competition policy.
"In the case of Google I am concerned that the company has given an unfair advantage to its own comparison shopping service, in breach of EU antitrust rules," Vestager added. "Google now has the opportunity to convince the Commission to the contrary. However, if the investigation confirmed our concerns, Google would have to face the legal consequences and change the way it does business in Europe."
Google has 10 weeks to respond and can seek a formal hearing.
EU vs. Google, Take 2
These are the not the first antitrust complaints the EC has lodged against Google. However, the company's efforts to address concerns raised previously have been found inadequate.
Google now faces fines worth billions. The EC in theory could impose fines as high as 10 percent of the company's annual revenue — which could add up to US$6 billion — and force it to overhaul its system for recommending websites in Europe.
"Fines could hypothetically reach billions and so they would potentially be significant, as the laws are different in the U.S. and Europe," said Greg Sterling, vice president of strategy and insights at the Local Search Association.
"Google has an even more dominant position in search in Europe, and in addition there are other sentiments fueling this Statement of Objections," he told the E-Commerce Times.
Google's Side of the Story
Google insists that it hasn't done anything wrong.
There is more choice than ever before, thanks to the plethora of alternative Web search engines, including Bing, Yahoo, Quora and DuckDuckGo, as well as new search assistants such as Apple's Siri and Microsoft's Cortana, wrote Amit Singhal, senior vice president of Google Search, in a Wednesday blog post.
Services such as those provided by Amazon, Expedia and eBay provide alternative means to find products and services, he noted, and social media sites including Facebook, Pinterest and Twitter provide recommendations from other users.
"No matter how good competition is, this doesn't justify abuse of monopoly power under European law," said David Franklyn, technology law professor at the University of San Francisco School of Law.
Google is "giving preferential treatment for their own services, notably Google Shopping," he told the E-Commerce Times.
"What Google rattled off is just PR, and the EC is very serious, as it is saying they are a monopolist company, having 90 percent or more of search and control of the search results," Franklyn added.
Google's Next Move
Google may need to consider other options besides calling out the competition as it attempts to fend off the antitrust allegations.
"In the U.S., Google is considered a publisher, and its SERP (search engine results page) and algorithms are protected by the First Amendment," said Sterling.
"This argument isn't totally impenetrable, but it represents a barrier to the kinds of claims now going forward in Europe," he noted.
"The way forward isn't clear; Google seems to be digging in, but that could be for negotiating or PR purposes," Sterling added. "It will be required to make some changes or face penalties. Settlement is still a possibility, though."
Google has been aware of the EC's investigation and for years has been trying to fend off formal charges by offering a variety of concessions. At times, it seemed it had satisfied European demands, but the tide apparently has turned against the company.
"What we are seeing today is basically an indictment," said Franklyn.
"They have 10 weeks to respond, and if they don't satisfy the European Union, they're going to have to fight. They can litigate it, and this could go on for some time," he added.
Android Under Fire
The EC also opened a formal antitrust investigation into Android, which will focus on whether Google entered into any anticompetitive agreements or abused its dominance in the field of mobile operating systems, applications and services.
The investigation may not lead to charges, though.
"Android has significant market share today, but Android isn't even seven years old," noted Wayne Crews, policy expert at the Competitive Enterprise Institute.
"Its success was not a given, any more than Google's disappointing social network, Google Plus," he told the E-Commerce Times.
"Consumers like Android now, just as they once flocked to the BlackBerry," Crews remarked.
"Moreover, the market power of Google is surely offset by the market power of device manufacturers, like Samsung," he added. "If anything, the mobile device world moves even faster than the Internet, and smartphone owners are notoriously fickle and discerning."
Differences in Antitrust
While Google escaped antitrust prosecution in the U.S., it may be very difficult to do so in Europe.
"In the U.S., the FTC or DoJ is required to bring a case before an independent court and both sides argue their positions. The court then adjudicates the case and determines a winner," said Sterling.
In Europe, the European Commission brings formal charges and also sits in judgment of Google's rebuttal," he noted. "Thus the charges are a kind of a legal conclusion already."
That means Google will be facing a steep uphill battle.
"It will be difficult for Google to win by argument," noted Sterling. "If Google is fined it can appeal, but history suggests this is not likely to succeed."