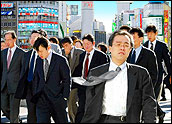 If you're in the U.S., the next time you place a bid on eBay you'll have new competition from Japan. The online auction giant said Tuesday it will join forces with Yahoo Japan, the largest online auctionsite in that country.
The move is seen as eBay's attempt to expand into the Asian market by working with a local, established entity, rather than go it alone in a vastly different culture from the U.S. The partnership will give sellers a larger audience of bidders, while users gain access to a far wider array of products on which to bid. In addition, many products, such as commemorative CDs and Japanese animation products are not available to U.S.-based eBay users.
eBay, the world's largest online auction site, carries considerable weight in the U.S. and has a growing presence in Europe. However, in Japan, consumers are much more likely to use local businesses, instead of one that's making the leap from overseas, Harry Wang, senior analyst at Parks Associates, told the E-Commerce Times.
"Why not partner with a player that's already established in the market, especially since Japanese consumers have a strong affinity for their own brands? Yahoo Japan also has popular broadband services, including a strong mobile presence, as well as the big market share with its Web site. These are the best known players in online auctions, but the larger company cannot be as nimble as the local one," said Wang.
'Gateway to the World'
Yahoo Japan on Tuesday launched a new auction site called "Sekaimon." The Japanese name translates to "gateway to the world." By using their Yahoo Japan login information, the site will let users bid on items listed on eBay's U.S. site. The site will translate eBay item names into Japanese and help with payments, shipping and customs clearance. Both companies will share the revenue from the new site.
In phase two, scheduled for March, users will see eBay items listed on Yahoo Japan's auction site. Before the end of 2008, items from Yahoo Japan's site will be listed on eBay in the U.S. Users in both countries will be able to bid on all items.
Other Market Drivers
Other market share forces may have spurred the overseas alliance, continued Wang. In Europe, for example, what had been strong growth since eBay established its presence there has since cooled off, said Wang.
"They have been very successful in Germany, but growth has been slowing for them, as it has in the U.S. So they're trying to grow by extending their business model, which has been a success here in the U.S.," he added.
Also, because Yahoo Japan already has become a market force in mobile access to its auction site, bidding on the go is very popular and devices are pervasive among Japanese users, so eBay can capitalize on that market as well.
Continued Growth
The online auction markets are growing in both countries, according to Yahoo. In Japan, it has grown 27 percent over a year ago, and it's now estimated to be at 4 trillion yen (US$36.4 billion). In the U.S., it's up 21 percent, totaling more than $172.7 billion. In addition, eBay said the net revenues from its online auctions hit a record of $1.2 billion in the third quarter of 2007, a year-over-year growth of 26 percent.
Of that, 49 percent came from U.S. operations and 51 percent from international business.
Yahoo Japan has more than 15 million auction items listed daily. Last year, eBay boasted some 1.3 million sellers worldwide who use the company's site as their primary or secondary source of income, according to ACNielsen International Research. The company claims 246 million registered users worldwide in 38 global markets.
eBay has tested the Japanese market before, but it couldn't compete with Yahoo there. In 2000, it set up shop in Japan, but with only some 25,000 daily listings; by 2002 it had pulled out of the country.