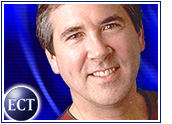 EarthLink, Inc. (Nasdaq: ELNK), the second largest Internet service provider (ISP) in the United States, said on Thursday that it will buy top-ten ISP OneMain.com (Nasdaq: ONEM) for $308 million (US$) in cash and stock.
The merger will add about 762,000 subscribers to EarthLink's base, extending the company's reach to over four million members. EarthLink agreed to pay OneMain.com shareholders about $12.27 for each of the 25.1 million outstanding shares of OneMain.com stock.
The purchase price consists of approximately $150 million in cash and 8.8 million EarthLink shares. Based on EarthLink's closing price Wednesday of $17.94, those shares are worth approximately $158 million. To complete the transaction, EarthLink plans to buy back about five million shares of its own stock now publicly held.
Numbers Game
The OneMain.com subscriber base has about 730,000 accounts using standard phone lines, 27,000 Web hosting customers and 5,000 broadband customers. After completing the OneMain.com purchase, the Atlanta, Georgia-based EarthLink will be the second largest Web hosting provider in the U.S., with a total of 148,000 accounts.
The transaction, which is subject to approval by shareholders of both companies, is expected to close in the fourth quarter. EarthLink says it expects to end the year with approximately five million members and annualized revenues of approximately $1.3 billion.
ISP Wars
The OneMain.com purchase is EarthLink's second acquisition of a major competitor in nine months. In September, EarthLink bought MindSpring for $1.3 billion, catapulting the company into second position in the ISP race.
However, even with the addition of OneMain.com and MindSpring, EarthLink is well behind America Online, which has more than 22 million members.
Closing In
EarthLink maintains that there is room for more than one big fish in the Internet sea. According to EarthLink CEO Garry Betty, the OneMain.com deal will help the company drive member growth in rural communities and secondary markets.
EarthLink has focused its efforts in major metropolitan areas thus far, while OneMain.com has primarily operated in suburban and rural areas. The Reston, Virginia-based OneMain.com developed its small town presence by design, billing itself as "your hometown Internet." The company provides Internet access and local content in markets that are underserved by national ISPs.
EarthLink has not indicated whether it will continue OneMain.com's approach or fold the service into its national EarthLink offering. Since the purchase of MindSpring, Earthlink has maintained the ISP as a separate brand.