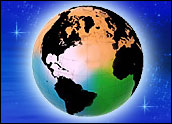 In today's global economy, more businesses sell products online, in more markets and in more languages, than ever before. According to a recent Forrester Research report, "Web Content Management Adoption in 2005," enterprises are shifting focus from cost containment and internal efficiencies — to growth. With that shift, e-business is becoming a priority again for companies that rely on the Web to sell products and services, improve sales execution, and create new products and services.
Globalization is an unstoppable business trend among America's leading corporations. But why do so many e-commerce companies stumble in their efforts to create a consistent user experience or provide customers with timely information, in their own language?
Expanding Appeal
Globalizing e-business means expanding your reach into current markets, or opening up new ones, and appealing to both international audiences and domestic multicultural groups such as Americans of Hispanic ancestry. Implemented well, strategic globalization initiatives ensure that customers around the world have appropriate and useful experiences as they communicate, collaborate and transact online — regardless of location, language, culture or business practices.
As part of this vision, globalization should involve corporate data and content sources across the enterprise, and use Internet technologies to improve processes, interactions and transactions with customers, employees and partners. For most global firms, the Internet is the single most important sales channel. Firms with Web sites that directly touch customers — devoted to "marketing" or "commerce" — exhibit the greatest drive to globalize.
But, most companies have yet to harness the Internet's true ability to maximize their worldwide reach, build profitable customer relationships and slash operational costs. The first challenge global firms must confront, when developing an e-business globalization strategy, is how to most effectively create an online sales channel that supports international business needs as well as their organizational and technical readiness.
When launching an e-commerce platform in international markets or in a new language, there are three critical success factors: localization, brand penetration and improved time to market/competitive nimbleness. Every e-commerce provider must keep these objectives in mind when considering how to expand its reach to new audiences and achieve its business goals — in every market it serves.
Localization
Many businesses strive to offer self-service applications in international markets with features like frequently asked questions (FAQs) and product information in customers' preferred language. Ideally, these customers can review product offerings, safety advisories, technical data and competitive descriptions on their own, allowing sales and customer service representatives to focus on value-added activities.
This "localization of information" has become a basic cost of doing business, as businesses compete with international rivals long-accustomed to offering service tailored to local markets. Besides improving customer service, this in-language approach has the added benefit of reducing staffing levels and taking other significant costs out of the customer service equation. In fact, Forrester and IDC have noted that costs for companies offering local language and self-service capabilities drop substantially when buyers serve themselves rather than speaking with a costly customer service representative.
Brand Penetration and Increased Equity
Online traffic comes from the goodwill associated with a brand, a hard-won value resulting from the trust that a strong brand engenders among its customers and partners. Businesses spending hundreds of millions of dollars annually to manage and refine their brand want to see their efforts extend beyond the location of their headquarters. The challenge is to ensure that their brand attributes are correctly and consistently represented in each of their target markets. But they often default to local brand management, where country brand managers adjust each brand for that individual mark.
This strategy can lead to inconsistencies in brand message as each new market reinvents itself, spending on duplicate staff, messaging, process and technology. This lack of compliance with brand use and content guidelines is a common problem as well-intentioned, but overzealous, in-country employees create rogue sites to meet their own market needs. Therefore, it is critical that global organizations implement a centralized system for capturing translated material, and making it available for reuse across Web sites, collateral or advertisements.
Improved Time to Market and Competitive Nimbleness
The Internet also represents an opportunity for companies to respond to competitors or initiate an offense more quickly than any other means. For example, a company can roll out and publicize competition-motivated revisions to its service offerings much faster through its Web site than it can through updating and publishing hardcopy collateral.
Manufacturers of both commodities and high value-add products find a greater return associated with faster time to market. On the product information side, companies using the Web as their primary means of marketing can speed up the return on new product investment by reducing the time between engineering to deliver a product, and closing sales in the most receptive national markets. Automating processes for translating and localizing online content and improving workflow further supports this time-to-market.
Case in Point: eBay
So how do e-commerce providers with a global vision effectively achieve localization, brand penetration and competitive advantage while quickly trying to tap into new customer markets and drive revenues? Consider eBay, the World's Online Marketplace, as an example of a global e-commerce provider that has successfully launched into new international markets. To expand into these markets, eBay sought a solution that could extend its current infrastructure with desired content management and globalization capabilities, without disturbing its existing, technical processes or customer-facing trading platform. With the right solution in place, eBay was able to streamline and automate global website management processes and accelerate the translation of content into 11 new, global languages.
By deploying an automated, centralized globalization solution that promotes content reuse, e-commerce providers can quickly and cost effectively achieve their global business goals, promote a consistent brand, message and image worldwide, launch multilingual content to international markets in a timely manner, and translate messaging for local markets without changing brand essence.
Together, this effort can result in significant time savings, not to mention substantial operational savings in manpower, translation vendors, site maintenance and training. Most importantly, the right globalization solution helps e-commerce providers promote their brand and deliver products to customers anywhere in the world — which is the ultimate goal of a good global e-business strategy.
Criterion for Success — Choosing the Right Globalization Solution
Following are some specific guidelines e-commerce providers can follow when considering an enterprise globalization solution:
Globalization automation: Find a solution that can automate as much of the translation and localization process as possible. Leveraging a centralized database that holds previous translations for future use reduces costs, ensures consistency and accelerates the delivery of globalized content to the Web.
Efficient user interface: The solution should enable hundreds of non-technical employees and third party contributors to create and edit content directly through easy-to-use interfaces and consistent editing tools.
Streamlined workflow management: The solution should provide standard translation functionalities, such as incorporating approval for changes and content review into a single workflow.
Finally, consider your business long-term. If you plan to grow your e-commerce platform at a steady rate, you will need a globalization system that is nimble enough to adapt to new market conditions, an expanding customer base and ever-changing customer needs.
---
Dave Rosenlund
is Vice President, Marketing & Business Development, for
Idiom Technologies
.
---