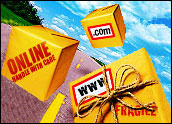 The declining economy has led to an increased trend toward drop-shipping transactions and has allowed e-tailers to remain competitive while brick-and-mortar stores hedge their bets as they see physical retail sales and profits slide precipitously.
By tapping into drop-shipping programs, e-tailers can effortlessly expand product lines to meet shoppers' demands without the overhead risk, inventory investment or storage requirements.
While many manufacturers and distributors in the past were reluctant to consider a drop-shipping partnership, economy-induced reductions in inventory orders have changed the retailing landscape completely. Retailers are now able to reach out to their suppliers and can begin establishing drop-shipping partnerships that benefit the retailer, the supplier and the customers.
In addition to expanding inventory options, drop shipping allows retailers to ship products to consumers in the most direct and economical way by eliminating the expense of double-shipping — that is, shipping from manufacturer to retailer and from retailer to consumer.
Beware of Pitfalls
There are countless business growth opportunities for online retailers looking to establish a successful drop-shipping program, but it's important to understand the potential challenges that can arise and how to implement smart strategies to avoid and overcome them.
Establishing a drop-shipping program can change a site owner's job dramatically, as most didn't set out to be shipping and fulfillment experts.
Without the right systems in place, e-tailers' responsibilities can become complicated with archaic business practices: manually filling out shipping orders; monitoring multiple inventory stocks; and playing the middle man between the supplier and customer.
The key to having a well synchronized drop-shipping system that saves time and money lies in the effectiveness of one's e-commerce solution to automate, customize and organize back-end management and customer service operations. With the right e-commerce solution, online retailers can easily integrate drop shipping into their business plan for success.
Must-Have List
In order to establish a successful drop-shipping program, online retailers would be well-advised to seek certain key features in their e-commerce platforms:
Automatic Data Management: Look for an e-commerce solution that automatically sends order information to the retailer and the supplier from the moment a purchase is made to the moment it is delivered to the customer. This eliminates communication hassles between a drop-shipper and retailers, which saves retailers time, allows orders to be processed faster, and reduces chances for human error.
Item-Specific Fulfillment: If you use multiple suppliers, avoid platforms that simply track orders at the total order level. If a customer buys three items and they are delivered at different times because of their origin, having just one tracking order will lead the customer to believe the order is incomplete and may result in a complaint.

Utilizing a sophisticated drop-shipping solution that tracks each item within an order will provide customers and site managers with individual tracking numbers for each item purchased, even those shipped from different locations. This allows retailers to eliminate the manual step of recreating orders item by item, supplier by supplier, and also ensures increased customer satisfaction.

Multiple Resource Management: E-tailers can benefit from a feature-rich platform that can manage and ship from multiple inventory supplies, including fulfillment houses, drop-shippers and in-house stock. Having smart technology behind your chosen e-commerce solution allows business owners to maximize and synergize available resources, rather than struggling to consolidate and eliminate valuable resources to fit an inadequate system.
Comfortable Shipping: Clients can choose to integrate their preferred shipping application with a platform because of its automated tracking number generation and retrieval process. Some platforms let businesses that already have a preferred shipping application use that application, with all the data transferred automatically to the new platform's site manager.
The key to having a recession-proof business is being able to remain nimble to meet the demands of consumers. Drop shipping is an efficient and economical way for e-tailers to increase sales, expand product lines and improve their bottom lines at a time when it is needed most.
---
Sean Cook
is CEO of
ShopVisible
. ShopVisible's SaaS (software as a service) e-commerce solution creates a business environment that integrates customer service, back office, inventory, marketing, accounting and IT.
---