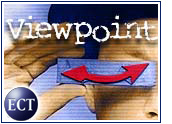 Are Americans ready to exchange "I dos" or pay their last respects to loved ones via the Internet?
Probably not, but an increasing number of computer users are finding their way to the Web to plan weddings and funerals. If it sounds too gimmicky, consider the possible impact these two industries might have on electronic commerce.
A great majority of Americans get married (multiple times for many), and every family must plan its share of funerals. While sales of books, records and the occasional toaster via the Internet continually stoke the fires of electronic retailing, the real key to longevity may be incorporating online transactions into major universal family events.
No one is suggesting ceremonies be held via the Internet — although such technology is in place — but planning and organizing the events online is increasingly gaining a foothold in the American culture.
Steady Base
The significance of these two major industries finding their way into the world of electronic sales is staggering, when sheer numbers are considered.
The Centers for Disease Control and Prevention reports that in 2000, almost 9 percent of the U.S. population got married. In the same year, the National Funeral Directors Association reports 8.8 percent of the population died.
NFDA reports the average cost of a funeral in America is just under US$6,000. As for weddings, the size and type of event planned determines cost. Nevertheless, it is safe to say that hundreds of millions of dollars are spent annually on these events.
If even a fraction of that is currently being funneled through the Internet, and if a cultural paradigm shift is building among computer users who find online planning more efficient, the potential for e-commerce growth is enormous.
The Local Angle
Further significance of the weddings and funeral industries online may be summed up in one word: inclusion.
One of the most often-heard complaints about e-commerce is its exclusion of local retailers and in-state businesses, and the potential for it to usurp local and state tax bases.
Such is not the case when using the Internet to plan weddings and funerals. In fact, one of the most successful wedding planning Web sites relies heavily on participation of local retailers. TheKnot.com, which claims to receive 1 million visitors per month, has a city-by-city guide on its front page that sends users to local merchants.
I clicked searched for "wedding cakes," and to my surprise was offered a choice of four local bakeries, one that is two blocks from my home.From gowns and rings to tuxedos and caterers, everything is localized through the Web site.
That means the greatest fears of local retailers have been neutralized.
Is It Working?
Whether the public is signing on en masse to alter its traditional wedding and funeral planning behavior is hard to say. However, last year, Greenfield Online reported that 30 percent of American brides turned to the Internet at some point in the planning of their weddings.
In addition to offering couples the choice of local retailers with which to work, TheKnot.com has struck deals with a number of national concerns. Last year the site inked deals with national housewares company Linens 'n Things, as well as with Fortunoff, an upscale New York-based home furnishings retailer.
Users of the site will be able to register with Linens 'n Things, selecting all potential gifts of interest, without ever leaving their homes.
That is precisely the type of consumer behavior electronic commerce has always suggested would alter American buying habits. It's happening.
Cyber-Serenity
Meanwhile, at the other end of the spectrum, funeral planning is becoming similarly digitized.
With most families now boasting at least one or two Web-savvy members, the previously laborious and dreaded task of visiting funeral homes, selecting caskets, arranging for hearses, flowers and even embalming, can be accomplished with a few well-placed keystrokes.
For the funeral industry, the business-to-consumer (B2C) end may actually be overshadowed by business-to-business (B2B) activity. FuneralExchange.com, for example, affords buyers and suppliers an opportunity to locate and transact with one another online. Suppliers can continually find new markets, while buyers can get instant quotes and information on product lines, and then place online orders.
Reaching the Masses
Once e-commerce newcomers find that their efforts in planning major life events are rewarded with cost and time savings, chances are they will be back for more online shopping.
After all, if we were able to buy all the flowers for Aunt Sadie's funeral online, why not send Mom her Mother's Day bouquet via the Internet?
What do you think? Let's talk about it.


---
Note:
The opinions expressed by our columnists are their own and do not necessarily reflect the views of the E-Commerce Times or its management.
---