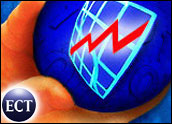 Consumers are beginning to embrace digital video recorders (DVRs) as they once did VCRs.
A scant two years ago, only one American household in 13 had one of the gadgets. Now they're in one in five homes, according to the latest figures from the Leichtman Research Group (LRG), of Durham, N.H.
What's more, by 2011, LRG predicts DVRs will be in 60 million homes, or about 50 percent of all U.S. households.
Pushed by Providers
"Cable and satellite TV companies are driving the penetration of DVRs into the home," LRG President Bruce Leichtman told the E-Commerce Times.
The DVR market isn't demand driven, he explained. "The evolution of this product, like many others, is not solely about consumer demand," he said. "It's often about supply. This is a great example about the supply side pushing a product."
TV providers have pushed DVRs into the mainstream, noted Steve Wilson, principal analyst for consumer video technologies with ABI Research in Oyster Bay, N.Y.
"Before DVRs were a premium offering," he told the E-Commerce Times. "Now they're a standard offering."
Biggest Cog
Moreover, like mobile phone carriers that subsidize the handsets they sell to their subscribers, TV providers have taken a similar approach with DVRs, noted Rob Enderle, president and principal analyst of the Enderle Group in San Jose, Calif.
"For the most part, the big motivator for consumers to get these things is that the cable companies have subsidized these into the market pretty aggressively," he told the E-Commerce Times.
The appearance of high-definition television (HDTV) into the home has also contributed to the proliferation of DVRs, Leichtman maintained.
"The largest cable operator Comcast's strategy has been, with HD you get a DVR," he observed. "One of the biggest cogs in growth of DVRs has been the push into the home on the back of HD."
Price Is Right
Offerings by TV providers are also made more attractive by the HDTV market, added Ross Rubin, director of industry analysis for the NPD Group in Port Washington, N.Y.
"HD-capable DVRs have been more expensive than standard-definition ones," he told the E-Commerce Times. "That's shifting the distribution even more to cable-supplied options because those are offered at a lower price than retail HD DVRs."
Even an economy HD DVR costs US$300, he noted, while one from a satellite company costs $99, and cable companies will lease them to their customers for a low monthly fee.
According to the LRG survey, more than half of DVR owners (53 percent) say they own a high-definition television.
"People with HD TVs prefer to watch HD programming," Rubin noted. "So if it's a choice between watching something in high definition that they've recorded and something live that may not be available in high-definition, they may find more value from the HD DVR."
Modest Usage
Another finding by LRG was that 45 percent of DVR owners record only five or fewer programs a week.
"While DVR numbers are increasing dramatically and people who have them really like them," Leichtman remarked, "usage is still pretty modest.
"We should not assume," he continued, "that just because DVRs are in one out of every five homes that they're dramatically changing the landscape of television overall even in the homes that have a DVR."
Indeed, the LRG survey declared, "The growth of DVRs does not mean that the era of live TV has ended." LRG estimated that 95 percent of all TV viewing in the U.S. is still live TV.
Alternatives on Horizon
Even as DVR penetration increases, though, alternatives to the devices are on the horizon.
Leichtman cited two network features that Time Warner has begun to implement — "Start Over" and "Look Back" — as precursors to the kinds of things down the road that may supplant DVRs.
If a viewer misses the beginning of a TV program, Start Over allows them to watch it from the beginning. If the viewer misses the entire program, Look Back lets them watch it in displaced time.
"My expectation is that in 10 years network services is what we'll be looking at," Enderle predicted. "It's a lot cheaper to deal with, and if the programming never leaves the central office, it's a lot tougher to pirate."