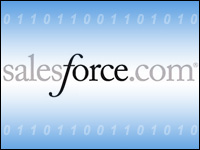 In my previous commentary in this space, I suggested that the evolution of the channel in the cloud is entering a new stage in its development. Last month's Dreamforce conference, hosted by Salesforce.com, served as a showcase for a series of new channel initiatives which clearly indicate the growing importance cloud vendors are placing on the channel for their future success.
Salesforce.com used its annual user conference as an opportunity to unveil a new series of partner programs aimed at making it easier and more attractive for independent software vendors (ISVs) and other third parties to build their Software as a Service (SaaS) and cloud solutions on the company's Force.com Platform as a Service (PaaS).
Partnering with third parties isn't new for Salesforce.com. A large part of its success can be attributed to the strength of its network of hundreds of AppExchange partners which have either built their applications on Force.com or used APIs and other tools to integrate with Salesforce.com's solutions. Just as the major software vendors of the past built their market shares by encouraging third-party developers to create apps which enhanced their primary products, Salesforce.com has done the same in the even more dynamic world of the cloud.
Laying the Groundwork
Salesforce.com's partner ecosystem began by appealing to a broad array of start-ups seeking a channel to market for their relatively untested solutions. After gaining a large number of the leading SaaS vendors as AppExchange partners, Salesforce.com set its sights on winning the support of a cross-section of the established ISVs, major IT consultancies and professional services firms, as well as an interesting mix of non-traditional software-driven information service providers such as Dun & Bradstreet and Reuters Thomson.
Salesforce.com has yet to make significant inroads into the traditional channel of software distributors and value-added resellers (VARs), but it has established relationships with Ingram-Micro and others, which are in the embryonic or exploratory stages.
One of the most intriguing alliances established by Salesforce.com a few years ago is its partnership with Dell. The system vendor has been going through a transformation process to avoid being commoditized by growing price competition and shifting customer preferences in the PC, mobile and server markets. It has made a series of acquisitions to fortify its software, outsourcing and IT services capabilities to more fully serve its customers and better compete with IBM, HP and Oracle. It is also more broadly defining itself as both a supplier of solutions and channel to market for third-party solutions.
Anyone who has purchased a Dell computer online has seen the most obvious way the company serves as a channel to market for an assortment of third-party software applications and add-on devices. Dell pioneered online e-commerce and has served as a major Internet storefront for a wide array of third-party products. It is a major reseller of Microsoft, Symantec, Intuit and other third-party operating systems and applications. Behind the scenes, Dell also pioneered the rapid, automated, aggregation of these third-party products into a made-to-order finished product for customers.
New Integrations
In May, I discussed in this space how Dell is in the process of realigning these competencies into a new go-to-market strategy aimed at capitalizing on new market opportunities in the cloud.
At Dreamforce, Dell took the covers off these competencies and openly promoted a new set of cloud channel programs that build on its existing relationships and a new set of technological capabilities derived from a series of recent acquisitions.
The centerpiece of the new programs and capabilities is its Boomi-based integration capabilities, which will enable Dell to package a variety of third-party SaaS solutions on top of its own cloud offerings to meet the needs of a wide range of small- and mid-size businesses (SMBs), as well as enterprises. This new integration layer will enable Dell to broaden its ecosystem of alliances and become an important channel to market for cloud-based solutions.
The company's strategic roadmap envisions it building a portfolio of turnkey services and adding an analytics layer which enable users, as well as partners, to extract valuable data from Dell's "platform" to make timely business decisions and better position themselves in the rapidly changing marketplace.
Salesforce.com's and Dell's channel-related announcements at Dreamforce didn't get as much fanfare as all the talk about Chatter and the "Social Enterprise." But both companies recognize that building new channel models for success is essential for the continued growth of the cloud market and their own long-term prosperity.