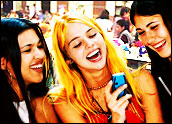 Six years ago when Apple's iPhone and smartphones running Google's Android first hit the streets, it seemed that lots of carriers jumped into the unlimited space. They did this to let customers test drive the wireless data app world and get hooked — and customers loved it.
Since then, both AT&T Mobility and Verizon Wireless have dropped their unlimited plans; they now charge based on usage levels. Still, they remain the two largest carriers in the U.S. market.
Here's a look at the three major carriers that offer unlimited plans.
Unlimited Opportunities
C Spire Wireless, a regional player in the Southeast, may have started the whole unlimited craze. It has been offering unlimited plans for many years. If you are in the C Spire Wireless marketing area, it is definitely worth considering.
C Spire has been offering unlimited plans for years — it started long before other carriers jumped into the space. That has given it a competitive advantage. Now, after many carriers have exited the space, C Spire is still going strong.
It offers excellent quality, lots of choice, fast 4G speeds in its major markets, deep coverage — and it is affordable.
T-Mobile USA has been struggling for years, but under its new CEO, it has been reinventing itself over the last several quarters. New CEO John Legere from Global Crossing is starting to shake things up. T-Mobile was always the quiet company, but it is going through the early stages of what may be a very interesting reinvention.
T-Mobile recently entered the unlimited space. It is trying to create a new segment in wireless — trying to change the economics of the industry.
For one thing, it no longer subsidizes phones. So you either pay a few hundred up front for a new handset, or you can finance the phones and pay monthly. The monthly service fee is separate. This is a new way of doing business in wireless, and it's refreshing.
Sprint also offers unlimited data, and it is changing. It is reinventing itself now that it has been acquired by Softbank. We don't yet know what it will look like in the coming years, but it is taking some steps now to hang on to customers — like lowering its unlimited plan prices.
This may be attractive to you. Just remember, although Sprint is updating its networks and may look very different in the next few years, today it is still mostly 3G in a 4G world.
Mixed Signals
So, the industry seems to be changing. Carriers are drawing a line down the center and either offering unlimited plans or not. Don't be fooled into thinking one side is winning and the other is losing. Rather, they both appear to be winning; however, each focuses on the needs of different groups of customers — different slices of the pie.
That's the beautiful thing about competition — it brings choice. This is a clear differentiator. There are plenty of customers who want one carrier or another. Then there are other customers who look for certain features, like unlimited plans.
Depending on the locations where you spend time, one carrier often has a stronger signal than another. The one that is best for you depends on where you spend time — only you can tell that. Check out a carrier's signal strength wherever you spend a significant amount of time before you decide to use its service.
One more thing: Don't assume the phone that works perfectly at home will work just as well at your new school, office or location. Remember, it's not likely you'll find the same signal quality in every place.
I suggest buying a phone just before you travel, and when you get to your destination, check out all of the locations where you'll likely spend time. Make sure you have a good quality connection. All of the major carriers are good companies, but that single point can make the difference between a happy or a frustrated customer, no matter which carrier you choose.