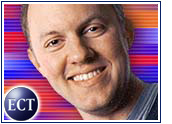 Last week, Marc Andreessen, the 28 year-old co-founder of Netscape, received a lukewarm reception from the New Democrat Network when he unveiled his prescription to combat the dearth of high-tech workers in the United States.
According to published reports, Andreessen's keynote address to a group of Democratic officeholders and candidates at the San Francisco meeting was briefly disrupted by a handful of protesters who began singing songs and waving placards attacking the event's organizers. The hecklers also handed out flyers denouncing the World Trade Organization (WTO).
Once things settled down, Andreessen, who is currently chairman of the Web portal company Loudcloud, told the gathering that the United States should lift all immigration restrictions for high-tech workers.
Immigration Creates Jobs
"The debate on immigration has been mischaracterized," Andreessen told the politicians. "Immigration creates jobs."
To bolster his case, Andreessen asserted that about one-third of Silicon Valley startups were founded or are run by immigrants — including such high-tech giants as Intel, Cisco Systems, Computer Associates and Sun Microsystems.
The fact that Andreessen's message was not well received is understandable, since much of the Democratic Party's financial support comes from labor unions, who contend that an open-door immigration policy would be a serious threat to American workers.
Among their objections, the unions accuse companies of exaggerating the high-tech shortage as part of a scheme to eventually replace their older, highly paid staff with younger, lower paid foreign workers.
Shortage Not Contrived
Despite organized labor's concerns, the reality is that only about six percent of U.S. college graduates received engineering degrees last year, according to the National Center for Education Statistics.
The Bureau of Labor Statistics predicts the need for high-tech workers will skyrocket by 91 percent over the next decade, and industry officials claim that as many as 300,000 jobs are currently going unfilled due to the lack of qualified applicants.
Therefore, it seems to me that Andreessen's proposal — if implemented — could be a sensible long-term solution that will keep the new economy chugging along.
But having said that, I also think that labor unions have a point about the likelihood that companies will be tempted to replace older employees with younger, lower paid workers if the immigration floodgates are suddenly opened.
A bill proposed by Representatives Lamar Smith, (R-Texas); Sheila Jackson Lee, (D-Texas); and Bob Goodlatte, (R-Virginia) would remove the limit on visas for three years and also set a minimum salary of $40,000 (US$) for jobs filled by immigrants.
Under this bill, companies would have to document $250,000 in assets to participate in the program and agree to conduct annual reviews to make sure the wages of their American workers either hold steady or rise.
My fear is that this bill will be the target of a lot of noisy objections from special interests and that it will fail to receive serious consideration because it makes too much sense.
Andreessen Promotes Voucher Program
In his speech, Andreessen also said that an effective, long-term plan for developing more homegrown high-tech workers would be to promote more charter schools and to eventually adopt a voucher program as an alternative to public education in the United States.
This suggestion received an even cooler reception than Andreessen's immigration proposal, according to published reports. The group's reaction is understandable, considering the predominance of teachers' unions in the Democratic party.
Whether or not an idea could work seems to be irrelevant to politicians who are used to giving a knee-jerk response in line with their favorite special interest groups.
After the meeting, Andreessen assured reporters that he is not interested in running for public office. That strikes me as a sound decision. After all, running on a common sense platform would probably make the likelihood of Andreessen being elected just about nil.