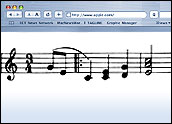 Music has transcended cultural and economic barriers worldwide, thanks in large part to the growth of digital audio technology, as noted in Part 1 andPart 2 of this series.
Throughout history, broad groups of species have undergone periods of rapid evolution and radiation. The same can be said today of digital music technology. From MP3 streaming and live Web simulcasting to the emergence of iPods and the numerous other brands of MP3 player/recorders, to music clips and ring tones on mobile phones, there seems to be no end to the profusion of applications and new devices in the digital music space.
Dave Douglas on Digital Audio
If you're a jazz fan or a technology enthusiast and happen to be in New York City from December 5 to 10, 2006, you might want to stop at the Jazz Standard to listen to two-time Grammy award nominated trumpeter and composer Dave Douglas and his quintet.
They plan to break some new ground, technologically speaking, by recording all 12 of their 60-minute sets over the six night stand — 40 old and new compositions in all — using ProTools HD. Each set will be available for preview and download within 24 hours via Douglas's artist-run label,Greenleaf Music.
"Greenleaf Music has provided me with more creative means than ever to make my music and get it to listeners almost immediately," Douglas said in an announcement. "Blogging, streaming, downloading, linking, and all of these technological advances are changing the way an artist can interact with people all over the globe that are interested in the music. This new recording project is directly in line with that change, and I couldn't be more excited and challenged to record this set of performances."
A Blessing and a Curse
When asked what prompted him to go independent and embrace digital technology, Douglas said, "Quite honestly, I got tired of having to wait around for someone else's decision about what I could or could not do. And I think that the changes in technology have made that process obsolete.
"I'm still learning, and almost every day I see another musician with a new do-it-yourself idea that I've never seen before. Technology also affects the making of music. Doing a subscription series with one unique track a month is really fun and satisfying for me as a musician. Creating a paperback series, inspired by book publishing, also gives another kind of outlet for musicians. Ideas like that couldn't be conceived, much less achieved, under any other system," Douglas told the E-Commerce Times.
"Everything is changing," he added, "and while, of course, there are still remnants of the old system in place, the relationship of artists to listeners is now closer than ever. I can reach a large audience directly, and it's just getting started. As a music artist, it is incredibly exciting to be a part of that wave."
Virtual WOMEX
The Berlin-based World Music Expo, or WOMEX, has undertaken a mission to promote and support independent World Music musicians and labels, and recently concluded its twelfth and most successful World Music Expo in Seville, Spain. As with Douglas and Greenleaf Music, the expo embraces a growing range of new digital technologies.
"Digital distribution has revolutionized music, but with piracy and illegal downloads, the musicians and the labels who invest in them are in crisis. There is far less return. Digital, in short, is a blessing and a curse," said Gerald Seligman, WOMEX director of communications and special projects.
"Labels are struggling and finding it harder to make a return on their investments in developing and recording new — and older — artists," he continued. "By definition, this will mean less risk-taking and fewer releases in the long run. Artists from wealthier societies can manage, but those from poorer ones will not be able to record themselves — a crisis, in short.
"On the other hand, computer-literate and plentiful societies have easier access to more music than ever before," he added, which is "a plus."
To expand and improve the effectiveness of its efforts, WOMEX has launched Virtual WOMEX, an online "international trade fair" and member-networking site that is designed to offer newcomers an inexpensive introduction to the world music genre and represented artists, as well as to facilitate communications between members and the organization.
When it comes to forecasting what lies ahead in terms of innovation in digital music technology, Seligman lists wireless development; cheap computers; free Internet access for Africa and Latin America; and creating a fair micro payment and credit system for Africa and Latin America.
"One hundred or 200 euros can be a big amount for [people in] these areas and can have a deep impact in helping to build up their own markets," he said.
New Music Discovery
Digital technology has enabled musicians and producers around the world to record, promote and distribute their music independently with greater ease than ever before.
What digital tools are best? "There is still a lot of fluidity in that regard. My instinct is to go with the most standard technology possible. There still is a barrier in this area of music, in that a significant percentage of listeners do not have quick, reliable connections to the network; also, there are varying degrees of familiarity with the technology," Douglas opined.
"That is changing fast. We simply look for technologies that are likely to reach people — and that people want. Having direct contact with the audience of listeners is a new part of that equation, because they let us know what they want," he added.
"Now that you can download the artwork and liner notes, another barrier is falling. We're curious to see what the interest will be for this box set of twelve one-hour sets. It's not just a full run of concerts — it's also a whole book of discreet compositions and improvisations.
"This means my latest book of pieces for this group — which in the old system would have been recorded in a studio and then toured — have already been toured [and] will be recorded live and collected into sets of new music, along with sets from previous studio releases," Douglas concluded.
Digital Distribution
Musicians and artist-run labels aren't the only ones experimenting with new digital technology. Apparently, there is no shortage of audiophilic technologists out there.
IODA, the Independent Online Distribution Alliance, creates digital tools and systems "to automate and ease the management and flow of content from the creator to its potential fans via the developing digital media marketplace," explained IODA founder and CEO Kevin Arnold.
"Our technology consists of metadata and media encoding — management and delivery systems that form a supply chain that content owners utilize to distribute their music to the many digital outlets online," Arnold said.
"We automate the preparation and delivery of the content on the back-end, and provide a Web-based application called the 'Rightsholder Dashboard' that allows our clients to manage their content, licenses, promotions and accounting directly and transparently," he added.
IODA also operates a promotional distribution network and Web portal called "Promonet," which is designed to make independent content more visible via blogs, podcasts and other Web sites that feature and promote music.
"We strive to make the business of distributing and marketing independent content more efficient, intelligent, transparent and cheap for our clients," Arnold told the E-Commerce Times.
Regional Filtering
Addressing WOMEX attendees in Seville, Arnold proposed an International Music Discovery Initiative that IODA believes can help overcome commercial and cultural barriers to distributing niche market music online.
"IODA is advocating a concept based around more effective use of a commonly available set of regional metadata more than a specific technology. We have, as do presumably all online music retailers, data about where our artists and labels are from in the world, and we're suggesting a simple way to put this data to use — enhance and expand the discovery of music from around the globe," he explained.
"We're calling this 'regional filtering,' and for IODA's own purposes, we're adding the ability to filter our catalog of music by both genre and region via our Promonet music discovery portal," Arnold claimed.
"Promonet and the regional-filtering feature is just one example of a marketing strategy focused on putting technology to work to make independent and niche content more available and more visible," he noted.
Digital Music World, Part 1: An Expanding Universe