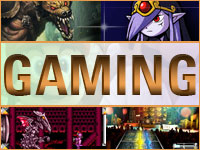 Gaming fans pose two questions: First, "Why are Sony and Microsoft so worried about selling consoles? Can't they just focus on games and online services?" and second, "In a world where digital media's becoming popular, will online shops and downloads take down brick and mortar?"
Consoles are still a major source of revenue for Sony, Nintendo and Microsoft, thanks to content licensing fees for retail products. Sales numbers for digital downloads — which can be great games but are often relatively inexpensive — really aren't that huge.
Companies also like to keep consumers within their closed systems, where they can track every move you make as you play games, watch movies or listen to music. The minute you leave your console to play games or consume content through your PC or smartphone, you vanish from their sight.
As for downloading killing brick-and-mortar businesses — retail is never going to go away. People still like to have that up close and personal contact with products — they still like something tangible.
Also, the fact is, high-speed Internet access is still out of reach for a lot of people. It's either not yet available in their area or not yet affordable. There's also an education issue. Many people don't understand why downloading digital content is a better choice than buying a DVD or a CD, and it will be some time before the masses view downloading as the preferred way to get content.