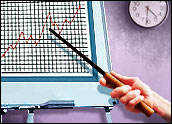 Marketers often ignore a critical measurement — customer attitudes and emotions — when examining customer behavior. This critical measurement can hold the key to insights that can drive the best kind of marketing — presenting the right message and offer to the right people at the right time.
Attitudinal information is available today through new surveying technology that equips the modern marketer with a fierce advantage over those who do not recognize its value.
Attitudinal Information = Emotional Information
Measuring attitudes is a relatively new thing to do. There have been movements to uncover rational customer behavior with geographic, demographic or psychographic views. However, this new attitudinal approach to modeling behavior uncovers the reasons why people do what they do. The purpose of this is to understand the "spark" of the relationship and what role emotion plays in customer decision making. For example, what was it that interested them in the first place, and what drives them to remain interested and engaged?
Customer attitudes reveal the softer side of the business relationship. Much of customer attitudes about a brand are based on the emotional connection they have formed with that company. People remember emotional experiences better than most other elements of a brand experience. However, many of the systems used by marketers today reveal only a portion of what is needed to really understand the customer.
Customer relationship management (CRM) is a good example. Most CRM-derived information is transactional in nature. It is solid information — critical to any business — but it doesn't tell the entire customer relationship story. It tracks the who, what, when, where and how of the business relationship. The missing element is why. Why do your customers do business with you? To uncover the why, it is necessary to understand the basic principles driving any business relationship: Do your customers feel valued, protected, respected and informed? These factors are the key drivers of the emotional connection that creates customer loyalty and engagement.
Understanding why your customers do business with you brings new marketing opportunities front and center. For example, traditional customer data provided from a CRM system might show that a demographic segment of a customer base is not buying as much product as in the past. Seeing this trend, many marketers may start to discount prices, test new offers or focus in other areas. However, these tactics may not work if they don't tap into the true reason customers are not buying as much.
Other systems used by marketers include focus groups and annual surveys. Many companies hold focus groups once a year or rely on annual surveys to pinpoint areas of improvement. However, these do not allow companies to obtain real-time feedback. If a customer has a negative experience, it is important to learn about it quickly and take care of the issue. Responding and resolving issues quickly will help create a lasting emotional connection to the customer.
Engagement – The Emotional Element in Business Relationships
When customers buy products or services, they expect good quality delivered with good service at a fair price. Companies have learned that all of these factors must be average or better to maintain a satisfactory customer relationship over time. However, savvy companies have figured out that there is another battle being waged — the fight for customer engagement.
Engagement is the emotional bond or attachment that a customer develops during the repeated and ongoing interactions accumulated as a satisfied and loyal customer. When customers are engaged with an organization, they are emotionally connected, passionate about its products and services, as well as aligned with the purpose and direction of the organization.
Engaged customers are more than satisfied and more than loyal. They go out of their way to show their association with your company, they become an active promoter of your business, and support you during good and bad times. In the end, they make you more money.
When you go beyond price, quality and service to focus on the heart or emotional aspect of customer relationships, you will create more engaged customers. When this happens, you will begin to enjoy all the rewards that engaged customers offer a business, including a greater share of their wallets, more positive referrals, less inclination to leave the business relationship, more useful feedback, etc.
The ability to identify, measure and manage engagement cost-effectively across the enterprise is now possible with recent technological advancements, thus opening up a new dimension in business. What used to be available only to businesses with a formidable commitment and culture built around the concept of engagement is now available to a much broader spectrum of organizations.
The Drivers of Customer Engagement
When measuring customer attitudes and engagement, it is important to determine what drives those attitudes. Allegiance loyalty experts have identified four primary drivers of engagement. These drivers apply to nearly all industries, and are present in every business relationship. They are the foundation of how customers rate their emotional bond with a business. They include:
Feeling Protected
Feeling Confident and Informed
Feeling Valued
Helpful Service
Customers begin to form a strong emotional bond with an organization after they experience multiple episodes of helpful and enjoyable service. Helpful service creates enduring customer-employee relations and builds real passion and commitment toward the organization. Under such positive conditions, customers feel better informed and knowledgeable about various products and services offered by a company. As customers become more confident in their relationships with companies, additional helpful experiences stimulate even stronger and more enduring emotional attachment toward the company.
Over time, exceptional service and learning experiences engender a belief and feeling that a company cares about the overall wellbeing of its customers. When this happens, customers "buy in" and "relate to" the vision and direction of the company. They gain a sense of protection and security and consequently develop a strong emotional bond with the company. The result is totally engaged customers who identify and express themselves by the company's products and services they purchase and use.
Collecting Attitudinal Data Through Feedback Technology
Marketers can monitor engagement drivers and collect attitudinal information through feedback technology that includes both solicited and unsolicited feedback. Solicited feedback is any feedback that is purposely requested, generally within a selected timeframe, such as from a survey. For example, engagement-related surveys with questions that are designed to measure drivers of customer emotions and intentions can reveal this information.
By regularly surveying a sample of your customer base, you will see trends and spot opportunities for growth. And you will also know quickly if you are not meeting customer needs. The right time to gather this feedback is based on a careful balance of insight needs and survey fatigue. The timing of surveys is best managed through following best practices and enterprise feedback management strategies designed to solicit feedback at the right time and place, from the right people.
Unsolicited feedback is any feedback that is offered voluntarily, at a time selected by the customer. Compliments, suggestions, comments and complaints are examples of unsolicited feedback. Even discussion forums and customer blogs can be considered forms of unsolicited feedback. "Give Us Feedback" links on a Web site, and comments provided live to a call center representative are examples of the channels used to collect unsolicited feedback.
If handled properly, the combination of solicited and unsolicited feedback provides a clear view of current and emerging issues that are driving your customer relationships. These two elements of feedback can also be the source of some of the best product, marketing and sales information. When customers go out of their way to provide feedback, it indicates they care about the relationship enough to voice their opinion.
Business managers can use technology to simplify the process of measuring and managing feedback to understand customer emotions. Technology can aggregate attitudinal data to provide marketers keen insights into new opportunities through predictive analytics. This makes it possible to use historical data to model and predict future behavior and outcomes, and know which drivers have the most impact on specific future business outcomes.
Getting Started: Investing in Engagement
As businesses struggle to find new ways to grow and differentiate, they must learn to not only connect to the mind of the customer, but also to the heart of the customer by focusing on the drivers of engagement. Values-based attitudinal information, made available today through new surveying technology, equips businesses with a new way to understand and retain customers.
Gathering attitudinal data through real-time feedback and using that data to spot trends and growth opportunities is certainly possible today with new technologies. Companies should gather both solicited and unsolicited feedback to gain a complete voice of their customer. Measuring customer engagement may be a new concept for many organizations who have traditionally only focused on the tools and services that measure customer satisfaction. However, organizations that understand how well they are connecting with their customers and employees on an emotional level will enjoy higher profits and faster growth.
---
Adam Edmunds is CEO of
Allegiance
, provider of the Engage Platform, an enterprise feedback management system that includes analytics and professional services.
---