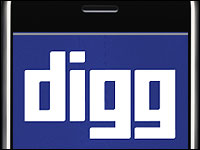 The personnel shakeup taking place at Digg offers an example of how difficult it can be for a social media site to make the transition from a popular online destination to a profitable business enterprise.
In addition to losing its top sales and finance executives, Digg is reducing its total workforce from 67 to 42 people. Digg CEO Matt Williams announced the reduction in a blog post on the company's website Monday.
"Our business has a burn rate that is too high," Williams wrote. "We must significantly cut our expenses to achieve profitability in 2011. We've considered all of the possible options for reduction, from salaries to fixed costs. The result is that, in addition to lowering many of our operational costs, I've made the decision to downsize our staff."
Lost Users and Revenue
The E-Commerce Times' attempts to reach Digg for further comment were unsuccessful. It appears, however, that Digg made several moves in recent months that alienated a large portion of its passionate audience, and ultimately caused the company to lose advertising revenue.
Digg's problems apparently began in late August, when it launched a redesigned website. Almost immediately, users began complaining that the new site was difficult to navigate, that many of its new features didn't work properly, and that popular features from the original site had been removed.
There also were complaints that the new site seemed to allow publishers — rather than individual users — to consistently get their submissions placed in the site's "Top News" section. The suspicion was that publishers were being allowed to game the system, and that they likely were paying for that privilege.
"Social sites that suddenly become more commercial always open themselves up to criticism, particularly if the new commercialism is not completely transparent," Lou Kerner, vice president of equity research with Wedbush Securities, told the E-Commerce Times. "That's why the reports of publishers being able to game the system could be detrimental to Digg."
Too Many Changes at Once
Even if publishers were allowed to game the system, that was not as big a transgression as making massive changes to a site in which users felt ownership, according to Charlene Li, a partner with Altimeter Group.
"Gaming the rating system has long been a part of Digg's history, just as people game search engines," Li told the E-Commerce Times. "The bigger issue is that Digg put off redesigns of its site for years and then loaded them all in one fell swoop. "
Backlash from the redesign is believed to have cost Digg as much as 30 percent of its audience, "and it's inevitable that when you lose that much traffic, advertisers will start backing away," Li noted.
A Failure to Innovate
The question now is whether Digg can recover to become a thriving, profitable enterprise, or if it will simply die a slow death.
"At this point, it's going to take a lot for them to recover," Li opined. "When Digg was launched, it was just about the only place where people could easily share content — and in the process, gain a reputation, exert influence, and gather a following. In the years hence, there has been a proliferation of places to share, and more importantly, a new culture of sharing where anyone with a Facebook account can participate. You no longer have to digg tons of stories to have influence; you just have to have friends who care.
"Digg's failure wasn't just the redesign," Li concluded. "It was the failure to continually innovate with the emergence of social technologies and the consequent rise of a culture of sharing."