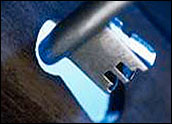 The Association for Retail Technology Standards (ARTS) got busy early this year. The technology standards division of the National Retail Federation (NRF), ARTS began in 2007 with the introduction of several e-commerce data and content management standards.
Among those standards, ARTS — in partnership with the NRF's Shop.org division — introduced a new e-commerce data exchange format for comparison shopping engines (CSE) at the annual Shop.org convention in October 2006.
"The current situation is a digital tower of Babel, where different online shopping search and shopping engines take SKU (store keeping units) data in different formats. These specs allow advertisers, engines and agencies to exchange product data more efficiently," said Jay Heavilon, a partner with online ad agency MARS Interactive, who chaired the ARTS Online Advertising committee.
"In the early history of ARTS, most of the work was around the point-of-sale (POS) and devices around it. But the world of retail has changed dramatically, particularly with the introduction of new channels such as the Internet, and new technologies such as those that drive service oriented architecture (SOA)," Francoise LeGoues, vice-president and chief technology officer for IBM's Distribution Sector, told the E-Commerce Times.
"Technology in the store has changed too, introducing many new devices that need to integrate with the POS. ARTS has responded to these new challenges in multiple ways," she added.
New Standards and Initiatives
The first working demonstrations of the CSE data exchange standard were presented at the convention by its main developers, NRF members Channel Intelligence and Merchant Advantage.
A second product content management schema, which facilitates the exchange and management of images, videos and other content across multiple channels from one source, was demonstrated by Accessvia.
Merchant Advantage last January partnered with the NRF's ARTS to help create standards for e-commerce data feeds. "The new NRF/ARTS standard allows online retailers to provide highly accurate data to participating comparison shopping engines while increasing the feedback information and allowing much easier troubleshooting of the feed when problems do occur," explained Michael Lambert, MerchantAdvantage co-founder and CEO.
The company last year introduced Channel Management and Channalytics, its own CSE data feed management and analytics software for small to mid-sized businesses. "MerchantAdvantage's goal from the inception of Channel Management has been to streamline catalog feeds for online retailers. This new NRF/ARTS standard is the next logical step in the progression of product data feeds," said Lambert.
The ARTS standard can help businesses to better market their product catalog in the online retail marketplace by streamlining what has become a tedious, time consuming and costly task, Lambert continued.
"MerchantAdvantage provided input and advice to the main developers of the schema at ARTS over the past few months. The final product that emerged was the result of collaboration among a group of companies which included Channel Intelligence, MerchantAdvantage, Performics and the Rimm-Kaufmann Group, to name just a few," he added.
Underlying Rationale
If you're looking for a compelling rationale as to why ARTS initiated and coordinated development of the CSE data schema, "How about a 35 to 50 percent reject rate?" ARTS Executive Director Richard Mader said.
CSEs have been increasingly popular with the online shopping public in the last year or so. Most retailers now typically send product information and receive responses and statistical feedback from one or more CSEs on a regular basis, Mader told the E-Commerce Times.
"A retailer like Circuit City, for instance, might be sending product information to 10 or 15 different CSEs, all requiring different formats. And retailers, on average, are experiencing between a 35 to 50 percent reject rate," he noted.
To make matters worse, retailers weren't being notified that their CSE data feed postings were being rejected; they had to access the CSE site and find out for themselves that it was rejected and not posted for sale.
Another strong motivation for ARTS and the CSE schema developers was to address the cost-per-click issue. "CSEs get paid for how many times someone clicks on an online ad and there's been some fraud. We wanted to develop a way for CSEs to send back standardized click data that can be put into retailers' systems for analysis, auditing and, more importantly," to capture data and improve marketing efforts so that retailers can advertise the correct products, Mader explained.
Drilling Down: Standards for E-Tail Sectors
Having previously released a generic, XML-based data schema for e-tailers, ARTS is developing more specific schemas for vertical intra-industry retail sectors. During the Shop.org convention, ARTS presented one such data schema for the food services and grocery industry sectors.
During the show, IBM and Microsoft presented conceptual versions of their efforts to develop WS-POS (Web Services for POS), an open standard, SOA-based Web services version of ARTS' UnifiedPOS standard, which aims to offer retailers a flexible, easily implemented means of connecting peripheral devices to POS terminals.
To keep up with the ongoing development and introduction of new POS features and services, ARTS also announced a major update — including more than 600 new criteria — to its request for proposal (RFP) standard.
The RFP standard provides retailers a blueprint for selecting POS applications. It has been downloaded and used effectively by hundreds of retailers since its introduction in January 2007, according to ARTS.
The Bottom Line
The term "retail" encompasses a vast range of businesses — from those selling food to household goods to electronics. It also includes retailers and e-tailers of every size and shape, from small niche and boutique specialty stores to the largest "mega-warehouses" such as Wal-Mart. That diversity makes ARTS' standards mission all the more important.
"As in any industry, there exist a plethora of vendors that serve retailers. In retail, however, we see even more niche vendors than in other industries, because of the multiplicity of segments; e.g., groceries, apparel, electronics, etc.," explained IBM's LeGoues.
One way to get vendor applications to work together seamlessly would be to work exclusively with one vendor, "but this is rarely the best solution for the retailer," she continued.
"First, no vendor provides the full spectrum of functionality needed by most retailers. Secondly, even if this were the case, retailers want to be able to pick and choose the best specific application for their needs and thus build a complete solution that will integrate the best from multiple vendors.
"The only way to achieve this at a reasonable price point is through standards that assure the retailer that they can pick and choose the applications that serve their needs, and integrate them within their store or enterprise," LeGous concluded.