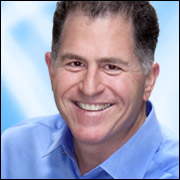 Michael Dell and investment firm Silver Lake have increased their takeover bid for Dell by 10 cents to US$13.75 a share, a special committee of Dell's board of directors announced on Wednesday.
As a result, the already-postponed special meeting of stockholders intended for the official vote on the buyout option was rescheduled for Aug. 2 to give the committee time to evaluate the revised offer.
"This is our best and final proposal," Dell and Silver Lake Managing Director Egon Durban wrote in their proposal letter. "We are not willing to discuss any further increase in the merger consideration."
The revised offer is also subject to conditions including a change in the voting rules. While those rules currently specify that shares not cast count as "no" votes, Dell and Silver Lake's offer requires a change in that stipulation to simply exclude shareholders who don't show up to the meeting or don't vote.
Dell did not respond to our request for further details.
'A Sizable Percentage'
While the bid was increased, it was those attached conditions that were really notable.
"Basically, the rule change Dell and Silver Lake are seeking would make passage of their proposal similar to a run-of-the-mill political election, where the majority of votes cast determines the outcome," Charles King, principal analyst at Pund-IT, told the E-Commerce Times.
"At this point in the Dell deal, any shares not accounted for — which according to Dell's statement includes about 27 percent of company shares — are counted as 'no' votes," King pointed out. 'That's a sizable percentage of the total, so changing the rules would make it easier for Dell and Silver Lake to prevail."
Not changing that rule would help Carl Icahn, author of the competing bid for the company, King added, "so it would not be surprising if he denounced the offer."
Off the Table
The change "would in essence remove those votes that would be counted completely off the table," Joseph Cerra, an attorney with Forman, Holt, Eliades and Youngman, told the E-Commerce Times. "Michael Dell and Silver Lake's Egon Durban are smart people and plainly believe this will improve their chances."
Whether the increased offer is enough to convince the special committee to make the rules change, of course, remains to be seen.
"The Dell board will need to approve the change, and it's uncertain if they would be willing to do so for the additional 10 cents per share Dell and Silver Lake are offering," said King.
'A Critical Date'
Time, meanwhile, is another critical factor.
While investor Carl Icahn and Southeastern Asset Management reportedly plan to vote against the proposed buyout, they only control a combined 13.8 percent stake in the computer maker.
As for the rest, only investors who owned the stock as of June 3 are eligible to vote their shares.
"Aug. 2 is a critical date," said Cerra. "Eligibility to ownership has to be within 60 days of June 3. So they pushed it out as far as it can go."
'Ludicrously Shortsighted'
In addition, Dell's board has reportedly asked for $14 a share, and it's not yet clear whether Dell's revised offer will be close enough.
"At this point, the outcome seems essentially up in the air," said King. "In my opinion both the company and the industry would be better off if Dell and Silver Lake prevail, since doing so would allow Dell to continue the process of transformation that began with his return as CEO in 2007.
"In contrast, while Icahn's offer would be marginally better for himself and a handful of institutional shareholders, it would strip the company of most of its cash assets and encumber it with significant debt," King pointed out.
"Most importantly, Icahn hasn't expressed any real strategic vision for the company beyond wanting to fire Michael Dell," King added. "That seems ludicrously shortsighted."