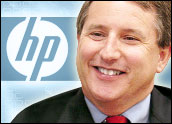 HP Chairman, CEO and President Mark Hurd resigned Friday in a move that shocked the market.
HP announced the decision following an investigation of a sexual harassment claim by a former contractor to the company. The probe found there was no sexual harassment, but that there were violations of HP's standards of business conduct.
The company's board of directors has appointed chief financial officer Cathie Lesjak interim CEO and has begun looking for a full-time replacement for Hurd.
The Curse of HP?
Hurd is the third top executive at HP to leave under a cloud since 2005, and analysts are referring to the company's difficulty in filling that post as "the curse of HP."
In 2005, HP ousted Chairwoman and CEO Carly Fiorina, and her post as chair was taken up by Patricia Dunn. Dunn had to resign in 2006 (although the board let her stay down until early 2007) over a scandal involving HP's snooping on board directors, technology journalists and employees.
"HP needs to come up with a better process for finding a new CEO," Rick Sturm, founder and CEO of Enterprise Management Associates (EMA), told the E-Commerce Times. "Look at the history of their CEOs."
Perhaps HP should begin by making changes in its board of directors, he suggested.
"A number of members of the board have been there quite a while, and I think the board needs some fresh blood that will help improve its situation," Sturm said.
Lesjak, the HP CFO who was appointed interim CEO on Friday, has taken herself out of consideration for being appointed the post full-time, the company said.
"It could be that Lesjak was told that she wasn't in the running, or she didn't want any part of that, and I suspect the latter," Sturm said.
How Have the Mighty Fallen?
Hurd apparently was asked to step down because he filed false claims for roughly US$20,000 over two years to wine and dine Jodie Fisher, an actress and HP contractor. Both he and Fisher have denied they had a sexual relationship.
Hurd reportedly offered to repay HP the money and paid Fisher an undisclosed sum as compensation.
How could someone like Hurd, who was one of the highest-profile CEOs in the industry and had been CEO of NCR, allegedly commit what essentially amounts to petty theft?
"When you give someone a lot of power, free up their time, and provide little oversight, they will almost always get into trouble," Rob Enderle, senior analyst at the Enderle Group, told the E-Commerce Times.
"This man was one of the highest paid executives in the world, and was ostensibly a genius," EMA's Sturm pointed out. "Do you really fire somebody like that over a matter of $20,000 or less? And the board is giving him a severance package so he won't sue them and he can pay Fisher off. That's called hush money."
Why, Why, Why, Delilah?
Jodie Fisher, the former contractor who filed the sexual harassment claim against Hurd that led to his ouster, reacted to the news by saying she was "surprised and saddened" that he lost his job. "That was never my intention," Fisher said.
Fisher claimed she was contracted to work at "high-level customer and executive summit events held around the country and abroad" for HP.
Fisher also has something of an acting career, having played the bartender in "Easy Rider 2." Her other roles included parts in movies such as "Intimate Obsession;" "Blood Dolls;" "Dead by Dawn;" and "Sheer Passion."
Her attorney, celebrity lawyer Gloria Allred, said Fisher is a "single mom focused on raising her young son."
Allred claimed Fisher worked on the House Select Committee on Narcotics Abuse and Control, was the vice president of a commercial real estate company, a "successful salesperson" for a Fortune 500 company, and has a degree in political science from Texas Tech University.
Hurd's Legacy
Hurd's time at the helm saw the company's share prices double, but that fortune came at a cost.
"I don't think Hurd was a genius," EMA's Sturm contended. "He boosted the bottom line by cutting thousands of jobs. He cut more than Carly Fiorina did, and in innumerable ways beyond that, some of which were mindless," Sturm said.
"Hurd's strength was execution," Enderle pointed out. "His weaknesses were vision and marketing."
What about Hurd's having boosted HP's top line?
"He grew the top line the same way Fiorina did — by acquisition — and ran into a buzzsaw," Sturm said. "He was spending the company's bankroll, and in the end, he ran out of steam. You can't just buy yourself out of trouble."
HP's temporary lack of a permanent CEO likely won't throw the entire corporation into turmoil, at least not in the short term.
"The division heads have been effectively running the company for several years," Enderle said.
Where's HP Going Next?
HP will look for a replacement, searching both within its ranks and outside, the company said.
News of Hurd's departure sent the company's shares falling by about 10 percent Friday, and at mid-day Monday, they stood at $42.81, down about $3.50 from the moment before the company announced Hurd's departure.
The prices will rebound in the very short term, EMA's Sturm said.
"That drop's just normal market panic we're seeing, and the prices will come back to settle at somewhere probably around where they closed on Friday," Sturm explained.