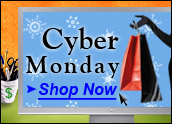 Although online retailers on Monday offered deals to jumpstart the online holiday shopping season, Cyber Monday as a one-day event could be losing some of its attraction. Many retailers jumped the gun, and have been offering special online deals for days.
Cyber Monday in recent years has ranked as the third largest holiday shopping day, following Super Saturday and Black Friday.
However, many online-only retailers, including Amazon, have started to offer pre-Cyber Monday sales to compete with the traditional Black Friday in-store shopping madness. With the overall economy picking up in 2016, it appears that consumers may have a desire to spend a bit more this year.
An estimated 137.4 million people planned or considered shopping during the past weekend, up from 135.8 million last year, according to the National Retail Federation and Prosper Insights & Analytics.
American consumers sought to take advantage of aggressive in-store promotions on Black Friday, the NRF found.
By the time it was all said and done, 154 million consumers shopped in stores or online over the weekend, the NRF reported, but consumers actually have spent less overall so far this year.
The fact that there were more consumers window shopping at brick-and-mortar stores and online, yet spending less, could mean that many have been waiting to see what Cyber Monday and beyond may have to offer.
Deal Time
Video game systems, TVs, laptop computers and mobile phones are among the products with hot deals available on Cyber Monday. Amazon offered specials on several flat panel TVs and PC monitors, but by 12:00 noon ET many of the deals had ended, and the waitlists were full. Other products also were going fast.
"Cyber Monday is typically a good day for deals on tech products, clothes and beauty items," said Tom Caporaso CEO of Clarus Commerce.
"At participating FreeShipping.com retailers, for instance, Best Buy is offering a 'free' $250 Best Buy Gift Card and Samsung Gear VR when customers buy and activate a Samsung Galaxy S7 or S7 edge, while Old Navy is offering '50 percent off' site wide," he told the E-Commerce Times.
"Savvy shoppers can save on practically anything, though, since retailers in every category recognize the power of Cyber Monday in driving sales," Caporaso added.
Beyond Black Friday and Cyber Monday
Cyber Monday deals actually started last week, though, and many major retailers likely will continue their promotions until the end of this week, the NRF noted.
"Individual shopping days are now giving way to a 'Cyber Week'" concept," said Greg Sterling, vice president of strategy and insight at the Local Search Association.
"'Cyber Monday' as a term will persist for a while, but we saw many deals started last week," he told the E-Commerce Times.
"Retailers are offering bargains all season long to drive traffic to their stores and sites, and ultimately boost sales this holiday season," noted Andrea Woroch, a consumer and money-saving expert.
Many retailers kicked off early Black Friday deals well before Thanksgiving — "a strategy retailers use to extend the shopping season," she told the E-Commerce Times.
Cyber Week
As a result, the traditional "Cyber Monday" — itself a term coined by Ellen Davis of the NRF in 2005 — already has morphed into "Cyber Week," but there are still days that consumers should watch to score deals.
"Shopping events like 'Free Shipping Day on Dec. 16,' when thousands of online retailers offer free shipping with no minimum and guaranteed delivery by Christmas Eve, present yet another savings opportunity to bargain hunters," explained Woroch.
However there is a downside to so many opportunities. The early bird — or shopper, as it may be — may not score the best deal.
"With so many sales events, knowing when to shop and where is the trickiest part, because a seemingly good deal today could be even better tomorrow," Woroch observed.
The Future of Cyber Monday
Retailers are expected to benefit from an extended holiday shopping season, thanks to an early Thanksgiving this year, and the power of online shopping is especially noteworthy.
Cyber Monday "should offer further proof that e-commerce is the main engine of retail growth these days," suggested Clarus Commerce's Caporaso.
"It's expected to be the biggest online shopping day ever in the U.S., with over $3.3 billion in sales and growth of almost 10 percent," he pointed out.
With more consumers having smartphones, there's the mobile trend to consider too.
"In 2015, mobile sales increased 53 percent year-over-year but accounted for just a quarter of sales," said Caporaso. "If they grow significantly again this year, it'll be another sign of how just how comfortable consumers have become with shopping from their smartphones — and a clear indication to retailers that they need to ramp up their mobile strategies immediately, if they haven't done so yet."