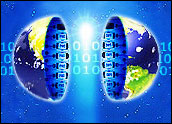 In today's information- and technology-driven economy, with its increased emphasis on specialized areas of technology like engineering, computer science and the life sciences, companies are increasingly reliant on the cross-border flow of information and labor. Part 1 of this three-part series briefly traces the intellectual property implications that may arise from such mobility, while Parts 2 and 3 examine U.S. and Canadian immigration law in a bit more depth.
Employee mobility in today's economy demands that intellectual property issues assume greater significance in employers' and employees' minds. The mobility of employees across companies requires a careful examination of the nature and scope of a potential employee's past responsibilities, as well as a proper drafting/scrutiny of employment contracts (in general) and clauses dealing with intellectual property rights, waivers and assignments (in particular).
Different Strokes
For instance, there may be trade secrets and other types of confidential information that a potential employee may be barred from using for a future employer. This could have implications in the near term for the employee's potential/actual productivity and usefulness, and further downstream with respect to ownership of any patents the future employer may seek. Different countries have different approaches to what constitutes a "trade secret" or "confidential information" — adding further confusion to the mix.
Different countries may also have different copyright terms, or differences in the way in which moral rights can be waived. For instance, moral rights can be waived in whole or in part under Canadian law, whereas in some Continental European countries those rights are absolute and cannot be waived.
Then there are differences in the very nature of the rights protected: English law permits the acquisition of unregistered design rights (which simply arise automatically), whereas an industrial design can only be acquired in Canada through registration.
General Principles, Minimum Requirements
Indeed, the comparative body of law around intellectual property matters is simply too complicated to outline in an article like this, however some general principles and minimum requirements may be distilled from the Agreement on Trade Related Aspects of Intellectual Property Rights (TRIPS):
Article 12 (Term of Protection for Copyright): "Whenever the term of protection of a work, other than a photographic work or a work of applied art, is calculated on a basis other than the life of a natural person, such term shall be no less than 50 years from the end of the calendar year of authorized publication, or, failing such authorized publication within 50 years from the making of the work, 50 years from the end of the calendar year of making."
Article 15 (Protectable Subject Matter for Trademarks): "Any sign, or any combination of signs, capable of distinguishing the goods or services of one undertaking from those of other undertakings, shall be capable of constituting a trademark. Such signs, in particular words including personal names, letters, numerals, figurative elements and combinations of colours as well as any combination of such signs, shall be eligible for registration as trademarks. Where signs are not inherently capable of distinguishing the relevant goods or services, Members may make registrability depend on distinctiveness acquired through use. Members may require, as a condition of registration, that signs be visually perceptible."
Article 27 (Patentable Subject Matter): "… patents shall be available for any inventions, whether products or processes, in all fields of technology, provided that they are new, involve an inventive step and are capable of industrial application."
Article 39 (Protection of Undisclosed Information — otherwise known as Confidential Information): "Natural and legal persons shall have the possibility of preventing information lawfully within their control from being disclosed to, acquired by, or used by others without their consent in a manner contrary to honest commercial practices (10) so long as such information: (a) is secret in the sense that it is not, as a body or in the precise configuration and assembly of its components, generally known among or readily accessible to persons within the circles that normally deal with the kind of information in question; (b) has commercial value because it is secret; and (c) has been subject to reasonable steps under the circumstances, by the person lawfully in control of the information, to keep it secret."
Crossing Borders, Part 2: Getting Your Technology Employee to Canada