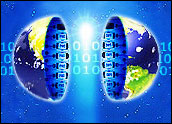 International e-commerce is poised for explosive growth in the months and years ahead. Demand for U.S. products overseas is booming due to vast selection, high-quality specialty goods and unbelievable values. The Internet is bringing all of this value, selection and convenience directly to consumers all over the world. In fact, worldwide Internet usage has already surpassed 1.5 billion and is rapidly approaching the two billion mark, according to Plunkett Research.
In addition, Internet penetration rates are steadily increasing in Europe. These rates are at only 50 percent in Europe and 17 percent in Asia, compared with 73 percent in North America. In some markets, such as Japan, online sales are expected to increase by as much as 40 percent annually, according to Reuters. The growth in search and social networking is also booming and fueling the viral popularity of U.S. e-commerce brands.
Bold and innovative e-commerce brands from the U.S. that capitalize on such growth will be known around the world. These online merchants will double and triple their current business by doing what comes naturally to smart retailers: never turning away a good customer.
Challenges to Meet
However, there are some challenges associated with international e-commerce. Too often today, international online shoppers have to jump over lots of hurdles to buy from U.S. e-commerce companies. They have to work way too hard simply to find out whether a site will ship to their country. Shipping costs are typically higher than they need to be, and delivery is often slow and unpredictable.
In addition, prices aren't translated into native currency. The final total cost for international customers to actually get a product to their doorstep is often too vague and incorrect. Nothing annoys a customer more than having to pay additional unexpected customs fees and taxes just to get their order home.
Seize the Global Opportunity
To tap into the opportunity presented by international e-commerce, online merchants are quickly getting up to speed on how to create a good customer experience. Many understand that they no longer need to navigate the ins and outs of global trade alone. These leaders are rewarded with strong international sales. They also retain loyal, high-margin customers, many of whom cost next to nothing to acquire.
Leaders in international e-commerce also find that lowering the cost of shipping is the easiest way to increase conversion and boost profits. As the costs and complexities of international shipping increase across multiple postal and private carrier networks, shipping can be simplified by engaging a single platform provider. Savvy shippers will fulfill orders by shipping goods to a centralized facility in the United States. This eliminates the need for cross-border infrastructure or upfront capital purchases-increasing efficiency and capabilities.
Don't Go It Alone
New technologies and international shipping services help retailers eliminate logistics barriers quickly and cost-effectively, often utilizing on-demand technologies and performance based go-to-market models. This frees merchants to do what they do best — concentrate on sales, marketing and merchandising.
Organizations must choose their international e-commerce and shipping solutions providers with care, however, if they want to take advantage of the opportunity presented by international e-commerce. To scale their operations, it's essential to work with providers who understand the complexities of international e-commerce and shipping, who can provide market insight and who execute in a manner that enhances the customer experience.
How to Select the Right Platform Provider
Choose a provider that is well versed in the appropriate rates for taxes and duties by country, with the ability to calculate, collect, remit and manage these funds. Make sure they are experts in product harmonization. The HS (Harmonized System) classification numbers are assigned to individual products and are used by customs authorities around the world for the application of duties and taxes.
Shippers also need to confirm the country of origin for the goods because regulations and fees are often based not on the location of a company or warehouse, but on the locale of the original manufacturer. It is also important that providers identify, capture and communicate all this information in their shipping documentation systems.
Think Big Picture
Once an organization has chosen the right technology and service provider that will help it sell internationally, there are still decisions to be made. Choosing where to invest (and where to cut corners) can play a significant role in overall profitability and growth potential.
For example, some organizations choose to offer international shoppers only a subset of their full product catalog. While simpler, it can send the wrong message. Even though sales may be concentrated in a limited number of SKUs, it is often the range and variety of products that attract buyers in the first place.
It is also important to test whether costs for duties should be included in the product value, in the shipping cost, or charged separately. Also, determine if customers prefer speed or cost when it comes to shipping. Overall, retailers should experiment and identify what works best in each market.
To serve customers well and tap into the growth in international e-commerce, organizations must communicate accurate information at the point of sale and then deliver on their promises. Failure to manage these challenges will translate into customer dissatisfaction. At a minimum, retailers need to reassure shoppers that they can
Handle payments in the currency preferred by the shopper;
Correctly calculate shipping costs, taxes and duties in advance;
Offer a clear, easy-to-understand process for returns and after-sales service;
Provide accurate estimates of tracking and delivery dates; and
Honor the price quotes provided with no hidden fees or surprises.
Fortunately, new technologies and services are making these requirements easier to manage. If organizations select the right technologies and service providers to help them navigate the complexities of international e-commerce, numerous benefits can be reaped for retailers and their customers.
---
Craig Reed
is vice president, e-commerce solutions, at
Pitney Bowes
.