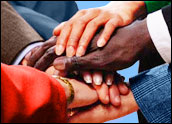 A consortium of 49 consumer product companies announced Wednesday the formation of Transora.com, a business-to-business (B2B) online marketplace to be launched this fall.
Transora will offer services in procurement, customer and consumer marketing, supply chain collaboration and related functions.
A total of $238 million (US$) has been secured to launch the new venture, which industry observers are calling the largest online marketplace yet.
Household Names
On board are brick-and-mortar rivals PepsiCo and Coca-Cola, as well as such household brand names as General Mills, Procter & Gamble, Kraft Foods, Campbell Soup, Gillette, Johnson & Johnson and Nabisco.
Each of the founding companies put up between $500,000 and $15 million, with no one company being allowed to own more than a five percent stake in the venture.
The market will remain open to any company in the consumer products arena, and will charge transaction fees for its services. In addition to pooling purchasing power, Transora plans to keep its members abreast of industry news and developments.
Too Friendly?
Transora promises to team long-established rivals that have previously been more interested in commercial combat than in partnerships. The new alliances forged by the marketplace may draw some interest from the U.S. Federal Trade Commission (FTC), which has recently fine tuned its antitrust observation skills.
According to Matthew Sanders, an analyst for Forrester Research, the teaming of staunch competitors has good and bad points.
"The number of founding members is an advantage because of their huge buying volume and because they cover a huge part of the industry," Sanders said. He added that because the members have widely varying needs, getting the exchange up and running to everyone's satisfaction will be a "monumental task."
It is a task that the industry giants evidently believe is worth the effort — largely due to potential savings. The founding members spend a total of $350 billion a year on procurement, and each stands to save millions of dollars in processing costs through the exchange.
Join the Crowd
More than 60 coalitions involving almost 300 companies have formed online marketplaces over the past year, causing analysts to wonder if healthy competition is about to be stamped out in a number of industries.
According to Credit Suisse First Boston, if all the marketplaces evolve as planned, they will control $3 trillion in annual purchasing power, primarily among a relatively tiny number of big companies. The effect this market domination will have on smaller players is of growing concern.
The trend toward online exchanges does not appear to be waning, as more and more established companies see the potential for enormous profits. While the players do not consider failure an option, "there definitely will be a huge shakeout," said Jon Derome, senior analyst at the Yankee Group.
The most common reasons cited for potential marketplace closures include the problem of competitors trying to do business together, the rushed manner in which some exchanges are set up, and possible government interference due to antitrust issues.
The big winners in the online exchange race, according to analysts, will be companies that provide software and infrastructure for marketplaces, including Ariba and Commerce One.
Transora has not yet announced which company will operate as its software provider.