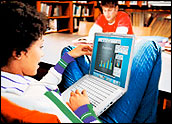 How do you e-pledge a sorority? We may soon find out. The world of higher education is changing rapidly, with the number of college students taking face-to-face classes expected to fall from more than 14 million in 2010 to only 4 million in 2015, making it level with the number of online students.
Four factors will contribute to this move:
Ripe for the Taking
One wave of the future may be schools like Udacity, Sebastian Thrun's new university, described as a reaction to the discovery that more than 160,000 people enrolled in an online class Thrun taught at Stanford.
This could enable elite universities to open their doors, suggests Felix Salmon. But the whole point of elite universities is that the door is closed — so look for independent efforts like Udacity to thrive independently of existing brick-and-mortar colleges. (Most likely their marketing costs will focus on branding and creating legitimacy, but that can certainly be done.)
The model for independent educational institutions may be accelerated by the reluctance of faculty to accept online education. Chief academic officers report that only 30 percent of faculty members accept online learning as legitimate as of 2009, based on the Sloan Survey.
How will the market evolve? Gaming can improve creativity and brain function, new research suggests, which is great news for users ages 12 to 17, who already spend 22 hours per month online.
They will be very receptive to this method of learning and will further accelerate the migration to online education. The market is ripe for the taking — the global e-learning market is expected to grow from $29 billion in 2009 to $47 billion in 2014, with the Chinese e-learning market estimated to grow at an astonishing 33 percent to surpass Western Europe by 2014.
Fortunes to Be Made
In short, the recession created new demand for higher education, demand that can be met more economically, thanks to improved broadband access and decreased costs in delivering Internet services. Remarkably, the pricing of higher education has remained flat despite these advances — presumably reacting more to the increased demand than the decreased production costs.
The presumed lack of legitimacy of this educational distribution system has led to the development of novel models, such as Udacity, where customers (students) can experience the same accessibility as they do with other businesses.
Higher education is still 20 years behind the corporate world in fully exploiting the tremendous advantages in cloud services. Although most universities are now migrating to modern approaches to customer relationship management and back-office functions, their core service — delivery of information — can still be transformed by new technologies. Whether it will cross-fertilize the 1 percent/99 percent divide remains to be seen, but certainly there will be fortunes made in the delivery of these systems.