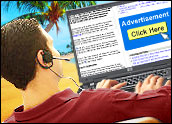 Click fraud is a growing problem for online advertisers who rely on paid search services. Marketing experts are urging e-commerce vendors have to take proactive steps to combat it.
Online advertisers pay the search engine company hosting their ad a set amount of money each time a computer user clicks on the ad. Click fraud occurs when an individual or group of people, either manually or through a computer program, repeatedly clicks on an ad to inflate the payment owed the publishers.
A more recent form of click fraud involves criminal gangs in foreign countries setting up rogue Web sites that run the same ads, then hire people to click on these unauthorized ads, thus diverting payment to the rogue Web site owner. This results in the advertiser paying for both the legitimate and illegitimate ads.
Billions On the Line
Some industry watchers complain that search engine publishers such as Google and Yahoo downplay the extent of the problem. As billions of advertising dollars are shifting to paid search, click fraud is a worsening problem that needs to be addressed more aggressively, they say. If click fraud is not tamed, major online advertisers could become disillusioned with this advertising medium.
However, other direct marketers say click fraud is merely part of the price of online advertising. Direct marketers describe click fraud as falling between media myth and marketing menace. They view click fraud as a real possibility that can be minimized by taking the proper precautions.
Rob Friedman, executive vice president of Digital Element, which specializes in IP (Internet protocol) intelligence, is certain that, eventually, the online marketplace will force ad publishers to change their policies involving click fraud.
The advertising networks will have to figure out how to detect click fraud more efficiently and comply with advertisers' demands for protection to stay in business, he predicted.
"Click fraud will be gradually reduced. Now there is not yet enough incentive for publishers. But we do see a reaction from advertisers and publishers setting in," Friedman told the E-Commerce Times.
Fraud Dynamics
Click fraud incidents are not spiking. They have been at high volumes for a while and they often go unreported, according to Patrick Peterson, vice president for technology at network security firm IronPort Systems.
"There is a much bigger picture developing. For the last three years, we've seen capitalism set in. Just as other aspects of organized crime, all the click fraud perpetrators see is money," Peterson said. He observed that online criminals are demonstrating renewed innovation and sophistication.
Peterson said click fraud occurs through two primary types of attacks. The first one uses botnets — networks of thousands of infected computers that carry out tasks over the Internet without the computer owner's knowledge.
"The bad guys have invested a lot to infect computers. No other business is so easy as what the click fraud artists are pulling off. This crime is still in its infancy," he said.
The second attack type is the pay-per-click model. The fraud teams set up a Web site and provide phony content. They create links to syndicated ads and hire people to work the click rings as full-time jobs. These click rings earn from 10 to 20 percent from advertisers who do not know the clicks are fraudulent.
"Online advertising is huge business today. Over (US)$10 billion is being spent this year alone. Half of that amount is generated by pay-per-click transactions. Advertisers love this method because it is incredibly popular," Peterson said.
"Yahoo or Google gets paid from the advertiser regardless of whether the click is from a potential customer or a click ring worker," he continued. "So there is no reason for the hosting sites to do anything to stop the fraudulent clicks. Why would they want to reduce their own revenue potential?"
Different View
Click fraud increases demand on the pay-per-click engines and causes the price to rise on what merchants are spending, according to Cord Silverstein, director of engagement marketing at Capstrat.
Silverstein disagrees with the view that search engine companies such as Google and Yahoo are not able to detect most of the fraudulent activities.
Rather, he referred to a report that Google released in December that shows click fraud represents less than 2 percent of all clicks through Google's system.
"Google, Yahoo and MSN have all taken click fraud very seriously and have instituted several safeguards to ensure if fraud happens it will be recognized [as] invalid click detection," according to Silverstein.
"In today's PPC (pay-per-click) world, because of possible click fraud, but much more because of increased competition, the casual PPC merchant has been pushed out of the market," he continued.
"At one time, merchants could put in their bids and pretty much run on auto-pilot and still see significant ROI (return on investment). That is not the case in today's world. To be successful in PPC, you must utilize a number of tracking and analytics tools as well as being diligent on changing bids, keywords, landing pages, etc. on the fly and in real time," Silverstein noted.
Despite any concerns over click fraud losses, PPC still produces the highest ROI and is the lowest cost marketing tool in the online world today, noted Silverstein.
What's Too Much?
The last quarter of 2006 was the worst period yet for advertisers being victimized by click fraud. Click Forensics, a market consulting firm monitoring online advertising trends, recently released the results of its latest report on pay-per-click (PPC) fraud figures for the fourth quarter of 2006.
The organization's Click Fraud Index monitors and reports on data gathered from the Click Fraud Network, which more than 3,000 online advertisers and their agencies have joined. The Network provides statistically significant pay-per-click data collected from online advertising campaigns for both large and small companies.
The key finding in the report: the overall industry average click fraud rate was 14.2 percent versus 13.8 percent for the third quarter of 2006. This compares to 14.1 percent for the second quarter and 13.7 percent for the first quarter. However, the average click fraud rate of pay-per-click advertisements appearing on search engine content networks was 19.2 percent for the last quarter.
"The data confirms what other recent independent investigations have uncovered about click fraud. [It] remains a concern for online advertisers, and affiliate sites represent a large and growing source of click fraud traffic," said Tom Cuthbert, CEO of Click Forensics.
Avoiding Bad Clicks
The aim of successful advertising online is to target the intended audience, advised Friedman. For instance, if you are targeting buyers in Atlanta, you should only expect to get legitimate clicks from people in Georgia.
Advertisers must monitor their ad click results to ensure they are not paying for what they are not getting. One way to do this, said Friedman, is for advertisers to understand their natural market. They can do this by watching for responses from out-of-area replies.
They should also provide their ad publishing sites with a list of domains and companies on a banned list, including their competitors.
"To compete against ISP (Internet service provider) search engine complacency, you need to use a very focused adverting network," suggested Friedman. "The cream will rise to the top. Advertisers must demand affirmative measures of protection against click fraud."