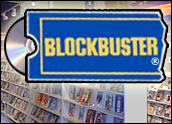 Blockbuster, the company that once reigned atop the video rental business, announced Thursday that it has filed for Chapter 11 bankruptcy protection. This may be its last chance at surviving in an industry in which consumers increasingly are gravitating toward services that enable instant access to movies on PCs and other devices.
Blockbuster outlined its plan for clearing out more than US$900 million in debt and said it will continue normal business operations as it moves through the bankruptcy process.
The bankruptcy plan calls for a small group of bondholders currently holding roughly 80 percent of Blockbuster's debt to forgo payment in exchange for ownership in a reorganized Blockbuster. The remainder of Blockbuster's current debt — along with any claims by current stockholders — would be eliminated.
A New Blockbuster
If the courts approve its bankruptcy plan, Blockbuster will have a fresh start, at least from a financial perspective. Its balance sheet will show only a $125 million loan supplied by its new ownership group, led by well-known investor Carl Icahn. The company also will have access to an additional $50 million credit line to finance business operations.
Blockbuster gave no indication of when it expects to emerge from bankruptcy or what the company will look like once it does.
"The recapitalized Blockbuster will move forward better able to leverage its strong strategic position, including a well-established brand name, an exceptional library of more than 125,000 titles, and our position as the only operator that provides access across multiple delivery channels — stores, kiosks, by-mail and digital," Blockbuster CEO James Keyes said.
Blockbuster will evaluate its U.S. store portfolio with the intention of boosting profitability, it said. Currently, all 3,000 Blockbuster stores in the U.S. will remain open.
There was no mention of any pending changes in company management or possible workforce reductions.
In Need of a Digital Strategy
Blockbuster declined to provide the E-Commerce Times with additional information but stressed that the company will conduct business as usual during the bankruptcy process.
Blockbuster's chances of returning to consistent profitability are not great, simply because the company has not shown the ability to compete in the digital video era, according to Dan Rayburn, a principal analyst with Frost & Sullivan.
"The bankruptcy doesn't change anything," Rayburn told the E-Commerce Times. "It wipes away their debt, but it doesn't change their business strategy. It won't instantly make them a formidable competitor against Netflix."
The Stores are Not an Advantage
The advantage that Blockbuster claims due its multiple distribution channels — stores, kiosks, mail and online — is meaningless, Rayburn contended, because the online channel is the only one that really matters in this industry.
Netflix started out supplying video disks through the mail, but it has been aggressive in the past few years at developing partnerships that allow consumers to stream video from its website to numerous devices, including PCs and video game consoles.
"Netflix is clearly the leader in this space right now," Rayburn declared.
"That's because by the end of this year, you will be able to stream Netflix movies on more than 100 different devices. Blockbuster is on less than six devices," he noted.
"I keep asking Blockbuster how the stores give them an advantage, and they have no answer," Rayburn added. "The truth is having a store doesn't help you reach consumers who are interested in an offering that's completely opposite of the store."
The only way for Blockbuster to have a chance at succeeding will be to change current management, Rayburn concluded.
"The current people have no track record at being successful with any digital offering," he said. "How do you expect things to change if you don't change the people?"