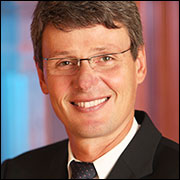 BlackBerry's new Z10 handset will be available in the United States later this week, and CEO Thorstein Heins believes it to be a quite the game changer.
BlackBerry has seen its share of the smartphone market plummet in recent years as Apple's iOS and Google's Android operating systems have taken the top two spots with touchscreen devices.
Heins, who spoke exclusively to The Australian Financial Review in advance of the Z10's release Down Under, said that he didn't believe it was a make-it-or-break-it moment for BlackBerry, however, and he emphasized that the pressure to innovate has shifted to Apple.
Although Heins noted that the new BlackBerry Z10 will have tens of thousands of apps available and that BlackBerry's strategy in other areas was beginning to gel, it's his comments about Apple that have been getting the lion's share of media attention.
BlackBerry did not respond to our request for further details.
Sour Grapes?
Heins gave Apple credit for its innovation with the original iPhone, noting that it helped usher in the era of touchscreen devices, but charged that the company has failed to follow through with subsequent innovations. Was he stating the obvious or does that reflect a lingering case of sour grapes?
"What else is he supposed to say? Apple is a very big target, and this isn't actually criticism — it is a matter of fact," said Roger Entner, principal analyst at Recon Analytics.
"It also shows that if you want your story printed and reprinted and picked up in the media, then you should attack Apple," Entner told the E-Commerce Times.
For Apple, it comes with the territory, he suggested. "That is what you get when you are the biggest dog in the yard."
Innovate or Die
What Heins was homing in on is that in the ever-changing smartphone market, it takes more than just releasing a shiny new version of existing technology to stay on top. You not only have to excite current customers enough to upgrade, but also to entice new customers away from rivals.
That is, after all, how Apple toppled BlackBerry, formerly Research In Motion, from its position as the dominant device maker to where it is now — fighting for third place.
"The iPhone has a much larger presence in the marketplace for every customer segment," said telecommunications analyst Jeff Kagan. "Is it perfect? No. However, neither is BlackBerry 10."
"BlackBerry 10 is an improvement in several important areas," Kagan told the E-Commerce Times, "but the question is, are they improvements in the areas where their key customers are? In other words, will these BlackBerry changes matter? Bottom line, the marketplace will be better with more, not fewer operating systems."
The question remains whether BlackBerry has done enough to innovate. It certainly takes a lot more than just claiming the competition isn't innovating to recapture the market. It also takes real improvements and advancement.
"Heins has seen firsthand what happens when a company stops innovating, but his proclamations about Apple are a little big premature, and the fact is that it is continuing to innovate," added Entner. "It is just at a slower point in the innovation cycle."
BlackBerry's Multitasking
One feature that could help the new BlackBerry reclaim some of its lost market share could be the multitasking functionality offered by the Z10 — provided it's something consumers really want.
"If you look at true multitasking, it is something that few of us do," said Entner. "The only time is when we are downloading a file and need to do something else. The rest of the time, suspended animation is enough."
BlackBerry will need a smooth launch with the Z10 if it hopes to recover from its past mistakes.
"They have to execute really well. Any hiccup when you are doing poorly is magnified by a factor of 10," Entner added. "They have to differentiate themselves — and calling out Apple is one way of them doing it."
It's still unknown whether everything can actually come together for the handset maker to garner enough consumer interest to start building on it.
"BlackBerry is just not there yet. I just am not bowled over yet by this new Blackberry 10 operating system," Kagan said. "I expect them to make improvements in coming months with updates. That's good."
It also helps that the company has a customer base that has been starving for a new operating system, he added. "The big question will be how many they will be selling over the next year or two. If they can keep up the numbers, then their recovery could be real. If not, well — let's hope they recover."