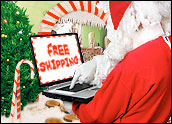 High oil prices. Natural disasters. Slumping economy. Pink slip epidemics. None of that appeared to bother shoppers as they stormed Web outlets on the day after Thanksgiving, the day that's become known as Black Friday.
According to Patty Freeman Evans, a retail analyst with Jupiter Research in New York City, Black Friday was a day of historic proportions for online sellers.
"The traffic share of consumers going to retail Web sites increased by 20 percent over last year," she told the E-Commerce Times. "It was the heaviest day ever of traffic to shopping Web sites."
Broadband Drives Traffic
At the sites of the 100 online retailers that make up the Nielsen/NetRatings Holiday eShopping Index, 17.2 million unique eyeballs were captured on Black Friday, a 29 percent jump over last year when the Web posts attracted a unique audience of 13.3 million.
"Increased broadband access at home drove consumers to do more research before hitting the stores over the holiday weekend," observed NetRatings Senior Retail Analyst Heather Dougherty.
She told the E-Commerce Times, "Previously consumers would research products at work during breaks or lunch, but now they have the option to learn about products and find online discounts on nights and weekends."
EBay Primo Destination
The top five Black Friday online destinations pegged by Nielsen/NetRatings were eBay (9.5 million unique visits), Amazon (4.6 million), Wal-Mart (3.4 million), Target (2.9 million) and BestBuy (2.1 million).
The New York-based media and market research firm noted that there were some new faces this year among the top 10 destinations: CircuitCity (1.8 million unique visits), Dell (1.6 million) and Shopzilla (1.3 million).
Evans, of Jupiter, asserted that CircuitCity's "order online, pick-up at store in 24 minutes" program was a key driver of traffic to the consumer electronics retailer's site. Not only is that an efficient way to fulfill orders for the store, she noted, but it's appealing to consumers who don't have to pay shipping costs and don't have wait to get their hands on their new bought gadgets.
Better yet, the process drives traffic to CircuitCity's stores. "Statistics from retailers show that 30 percent of the time consumers actually buy more when they go into the store to pick up an online purchase," she said.
Toys 'R' King
Dell's increased traffic may be due to the addition of more consumer electronics items to its product portfolio, Evans hypothesized. It's also benefiting from a bump up in consumer demand for computer hardware, she added.
Although Web sites in the toys and video game category showed the largest week-to-week advance (151.8 percent) in visits leading into Black Friday, according to Nielsen/NetRatings, it was followed by consumer electronics (142 percent) and computer hardware and software (101.8 percent).
Shopzilla's popularity on Black Friday can be traced to a growing desire by consumers to comparison shop, Evans observed.
"Consumers are saying that shopping comparison sites and shopping search engines are more and more important and useful to them as they try and figure out what to buy," she said.
Compelling Proposition
Helen Malani, chief shopping expert at Shopzilla in Los Angeles, noted that about one-third of all Web surfers use comparison shopping sites.
"As broadband continues to grow and more and more people shop online, every year use of comparison sites continues to grow," she told the E-Commerce Times.
"Sites like ours save consumers all the heavy lifting and work," she noted. "They can see at a glance the best price at a quality-rated merchant."
"That save time and money proposition becomes compelling, especially at the holidays, when budgets are being stretched and time is of the essence because there is so much gift giving to do," she opined.
Cyber Monday
As well as Net merchants did on Black Friday, they may do even better on "Cyber Monday," which was yesterday.
According to Scott Krugman, a spokesperson for Shop.org, which is affiliated with the National Retail Federation in Washington, D.C., awareness of Cyber Monday emerged when online retailers began to notice a spike in traffic to their sites on the Monday following Thanksgiving.
"Once we identified the trend, we were able to give it a name," he told the E-Commerce Times. "The name we chose was Cyber Monday."
Dougherty, of Nielsen/NetRatings, added: "Cyber Monday is a critical day for online retailers. As shoppers return to work from the holiday weekend ready to tackle their holiday lists, they will be greeted with plenty of online sales promotions and free shipping offers in their inboxes."