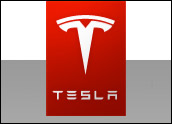 Why do AT&T, Tesla and iPhone work so well together? They don't play it safe. They all have the guts to drag us kicking and screaming into the future. AT&T was first to work with Apple on the iPhone, and it is first to work with Tesla. So what's next?
Look at all the wireless carriers. AT&T and Verizon are the two largest in the United States. They account for roughly 70 percent of the market. Although these two companies are similar in size, they are miles apart in what makes them what they are.
Verizon is more timid. It is never first to market. It is a fast follower. True, it makes fewer mistakes that way, but it never leads the industry in a new direction. It does not have its hands on the steering wheel. It is not captain of the ship. When others create a new market segment, Verizon eventually comes kicking and screaming to the opportunity.
AT&T is the company that had the guts to say yes and lead the wireless industry into the new world of wireless smartphone devices, apps and services. Sure, it took plenty of arrows, but leaders often do. With true Texas entrepreneurial spirit, AT&T paved the way for the rest of the industry. True, AT&T had no way of knowing the kind of future that was coming, but that's the point. It went ahead anyway.
Catching the Wave
Look back a little more than six years ago, when Apple was getting into the smartphone business with the iPhone. Since Verizon could not control every aspect of the Apple universe, it said no. Imagine that. That meant it lost out on a huge opportunity for growth over the years, as well as a chance to steer the industry. Who led? AT&T did.
Now AT&T is taking another step into the unknown with the car maker Tesla. Electric cars are popping up everywhere from coast to coast and are attracting quite a bit of attention from buyers, investors and the media.
For that reason alone, AT&T will benefit by being Tesla's first wireless partner — but wait, there's more.
This gives AT&T a very high-profile stage to roll out its innovations in the automobile sector. Anything a Tesla can do will get tons more ink than anything similar that a GM or Ford can do. Tesla has the spotlight for innovation right now.
So AT&T is starting to position itself for the next wave of growth — just as it rapidly moved into the smartphone space 10 years ago, well before anyone else, and just as it embraced the iPhone revolution six years ago. Now AT&T is entering the next wave of growth, partnering with other companies to revolutionize entire industries. This is happening in healthcare, retail and automotive.
Automotive has been embracing the high-tech wireless smartphone world in the last few years, and the trend is growing. Toyota and Lexus let you connect your smartphone to their cars with the Entune and Enform systems. This lets you get live traffic on your navigation system, live weather and other Web-based features directly from your smartphone. The same thing is happening with most other car makers like GM, Ford, Mercedes, BMW and so on.
Out on a Limb
We still have a lot to learn about this new segment. The good news is you get all sorts of wireless magic available in your car. The bad news is you use wireless minutes from your smartphone data plan. We'll figure it out. After all, we are just in the very early days.
There's going to be lots of noise in the auto space, so it's going to be harder than ever to be heard. What's the solution? Partnering with a hot new company that everyone follows — like Tesla — sounds like a great idea. That's exactly where AT&T has planted itself — just as it did with Apple years ago.
That said, don't think this race is over. It is just the beginning. I fully expect other carriers to jump in and take advantage of other PR opportunities like this one in industry after industry.
I am very excited to see what will be coming next. Automotive is really being dragged into the wireless future. It is doing plenty right and wrong, but it is moving ahead. There are plenty of lessons to learn, but these are just the early years.
Even though I have taken plenty of swings at AT&T, along with every other major competitor in the space over time, I have to admit it is the largest and most successful risk taker. It is an important player that is successfully ushering innovative ideas into the smartphone universe.
The good news is that AT&T is still very Cingular in its focus. So thanks, AT&T and Tesla. After all, somebody has to have the guts to drag us into tomorrow. We're always waiting to see what's coming next — and there is always something coming next.