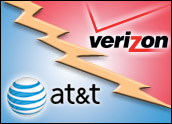 Lately, I have been asked by reporters to compare AT&T and Verizon and predict what 2012 will look like for them and their competitors. At this point, all I can say is it's happy holidays at Verizon, but not so much at AT&T. What a difference a year makes.
These two companies led the changes in the wireless industry over the last decade. They looked similar, grew rapidly, and have shared the No. 1 and 2 positions. However, something new is starting to happen. These companies could soon be on different tracks.
A year ago, AT&T Mobility was the only U.S. carrier to offer Apple's iPhone. Today, there are four. Almost a year ago, AT&T announced its intention to acquire T-Mobile and grab wireless spectrum. Now that deal is dead. Everything has completely flip-flopped.
So what is next?
It's all about spectrum and innovation. These are the two keys to long-term success — and not just for AT&T and Verizon, but for all the other wireless competitors as well, large and small.
Wireless Spectrum
Wireless spectrum is like the lanes on the wireless superhighway. I live in Atlanta, one of the busiest areas in the country. When the highways get clogged, traffic slows. So the city paves more lanes — expands the highway. That lets traffic flow once again — until it gets clogged once again through more growth. The government is thinking up creative ways to improve traffic flow with all sorts of ideas. Some work. Some don't.
The same thing is happening in wireless. Think of spectrum as the lanes. When carriers sell to more customers and they use more services, they clog the lanes — use up all the spectrum capacity.
One way to improve the situation is to add more lanes. Companies can do that by acquiring other companies and their spectrum. That's what AT&T tried to do with T-Mobile. Another way is to just acquire spectrum like Verizon did from the cable television industry.
Next is to think of new ways to squeeze more traffic onto existing highways.
In recent weeks, Verizon announced it is acquiring the spectrum of the failed cable television excursion into wireless. This is an easy way for it to get more spectrum.
After struggling for months to acquire T-Mobile, AT&T finally threw in the towel and instead announced it is acquiring the spectrum from the failed Qualcomm FLO TV. This will be a quicker and easier solution. In addition, it can share spectrum through a deal discussed with T-Mobile.
At this point in the industry maturation and development, this is the best way for these top carriers to acquire more spectrum and quickly expand their lanes on their wireless superhighways. And there is still more spectrum out there to be acquired. So expect more of these deals, not mergers.
This is also critical for every other competitor like Sprint Nextel, T-Mobile, C Spire and others. The wireless world is rapidly changing. Super smartphones like Androids and iPhones are squeezing the networks dry. We must act now to protect every carrier and every customer and make this ground fertile once again.
Looking at all of this, it seems Verizon is running this race without being exhausted like AT&T is.
Wireless Innovation
The other area where Verizon seems to be moving ahead of AT&T is innovation. There are many interesting ideas starting to bubble to the surface.
One example is a Netflix-type service. Netflix is a young company that has grown very rapidly. In fact, it accounts for roughly one-third of all Internet traffic in the United States, which is incredible.
Verizon sees this as a great new opportunity, and it may be right. Expect it to start offering a service in 2012. Of course, it may end up acquiring Netflix itself.
This sounds similar to what happened 10 years ago. Remember Internet service providers like AOL, EarthLink, CompuServe and Prodigy? They led through the 1990s until the Baby Bells and cable television companies started offering high-speed connections to the Net. Now the Baby Bells and cable TV companies dominate that space.
Today these competitors, if they still exist, are much smaller than ever. They are still good quality providers, but the growing wave of opportunity passed them by. They were unable to create the next wave.
This is what we may be starting to see here. If Verizon is successful, will AT&T follow? It would love to, once it catches its balance again. However, AT&T is off balance right now, bent over and breathing hard.
This is why I think Verizon is rockin' and rollin', while AT&T is struggling to regain its footing.
Verizon Ahead of AT&T in 2012
So, could Verizon pull ahead of AT&T this year? Yes it could. Of course, AT&T does its best when it is under pressure. And suddenly, it is under pressure. So it may struggle and fight and come back this year.
Remember in the late 1990s when SBC tried to acquire AT&T and Reed Hundt, the chairman of the FCC, said it was "UNTHINKABLE"? Yet less than a decade later, SBC did acquire AT&T — and BellSouth and Cingular — and the race was on. The smallest Baby Bell had become the largest, seemingly overnight.
Don't count AT&T out. A dry spell is not the end. This has happened several times in the past. However, things are rocky now, and will be for at least a while.
So what will 2012 look like for AT&T and Verizon and the other competitors with regard to spectrum shortages, industry-wide solutions to this growing problem, and innovation?
There are quite a few challenges ahead. We must come up with solutions that benefit all competitors, not just AT&T and Verizon.
Perhaps at the Consumer Electronics Show coming to Las Vegas in January, we'll get some ideas.
Yikes! CES is coming. This should be a very exciting show, with Apple iTV and Amazon smartphones, and all the rest of whatever is coming next.